Blast on Russian subway kills 11; 2nd bomb defused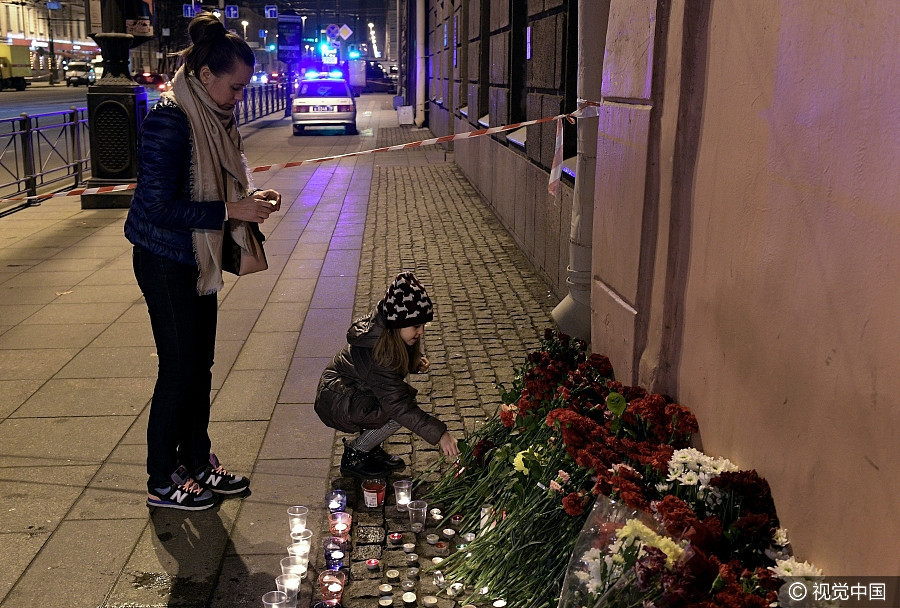 People lay flowers at Tekhnologichesky Institute metro station in St Petersburg in memory of the victims of the metro train blast on April 3, 2017. [Photo/VCG] 
The bombing drew widespread condemnation.
President Donald Trump said it was "absolutely a terrible thing." White House Press Secretary Sean Spicer said the US was prepared to offer assistance to Russia.
Lebanon's militant Hezbollah group, which is backing Syrian President Bashar Assad's forces along with Russia, says the incident was the type of "terrorism" Russia was fighting in Syria.
Most of the terrorist attacks in Russia have been connected to the insurgency in Chechnya and other Caucasus republics in the southern part of the country.
The last confirmed attack was in October 2015 when Islamic State militants downed a Russian airliner heading from an Egyptian resort to St. Petersburg, killing all 224 people on board.
The Dec. 25, 2016, crash of a Russian plane near the southern city of Sochi that killed 92 people, including members of the Red Army Choir, is widely believed to have been due to a bomb, but no official cause has been given.
Two female suicide bombers killed 40 people and wounded more than 100 in the Moscow subway on March 29, 2010. Chechen rebel leader Doku Umarov claimed responsibility for the attack, warning Russian leaders that "the war is coming to their cities."A Moscow-to-St Petersburg train was bombed on Nov. 27, 2009, in an attack that left 26 dead and 100 injured. Umarov's group also said he ordered this attack.
Russian airports also have been targeted. On Jan. 24, 2011, a suicide bomber blew himself up at Moscow's Domodedovo Airport, killing 37 people and wounding 180. The same airport in August 2004 saw Islamic suicide bombers board two airplanes and bring them down, killing a total of 90 people.
Associated Press