Asian-African ministerial meeting opens
Updated: 2015-04-20 13:18
(Xinhua)
Comments
Print
Mail
Large
Medium
Small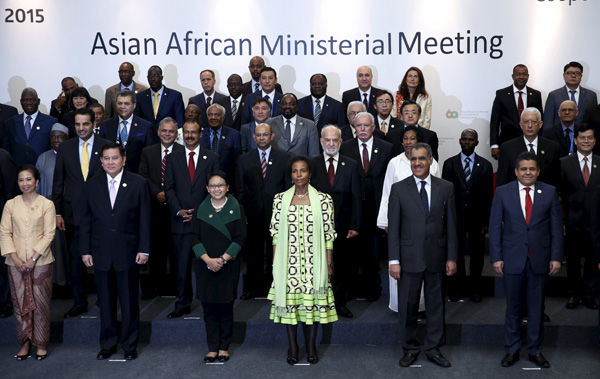 Indonesia's Foreign Minister Retno Marsudi (3rd L) leads a group photo session before a Ministerial meeting at the Asian-African Conference in Jakarta April 20, 2015. [Photo/Agencies]
JAKARTA - The Asian-African ministerial meeting opened here Monday and Indonesian Foreign Minister Retno Marsudi said the Bandung Message, better known as the Bandung Spirit, remains a commitment to the political solidarity in the world.
Ministers of Asian and African countries held a meeting here in preparation for the Asian-African Summit 2015, which runs from April 22 to April 23 and the Commemoration of the 60th Asian-African Conference scheduled for April 24.
Marsudi, in her opening remarks at the ministerial meeting, said the Bandung Spirit discusses both political and moral messages to the world.
"However, is a mere political message enough to address today' s challenges?"said the minister, calling for boost for stronger political and economic cooperation.
She told the opening ceremony that senior officials in their meeting on Sunday discussed the implementation of the Bandung Message and other documents relating to the New Asian-African Strategic Partnership (NAASP).
The NAASP was launched at the previous event of the Asian- African Summit, which was held in Indonesia in 2005.
Schedule
Chinese President Xi Jinping will visit Pakistan and attend the Asian-African Summit and activities commemorating the 60th anniversary of the Bandung Conference in Indonesia from April 20 to 24.

April 22
Attend the opening ceremony of the Asian-African Summit;
Meeting with Indonesian President Joko Widodo;

April 23
Bilateral meetings;
Attend the closing ceremony of the Asian-African Summit;

April 24
Historical walk from Savoy Homann Hotel to Gedung Merdeka;
Attend activities commemorating the 60th anniversary of the Bandung Conference;