Xi: Local links will drive growth
Updated: 2015-05-12 02:19
By XING ZHIGANG in Minsk, Belarus, and ZHANG YUNBI in Beijing (China Daily)
Comments
Print
Mail
Large
Medium
Small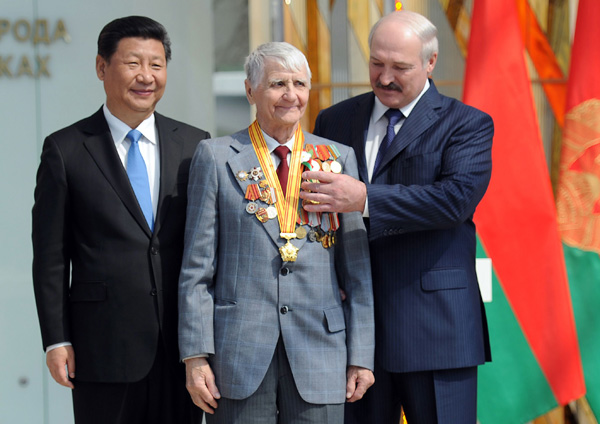 President Xi Jinping and his Belarusian counterpart Alexander Lukashenko pose for a photo with World War II veteran Peter Sapogov, 89, on Monday during an award ceremony at the Museum of the Great Patriotic War in Minsk. Sergei Gapon / AFP
Our door is open to Chinese investors, Belarus leader says
President Xi Jinping and his Belarusian counterpart Alexander Lukashenko pledged on Monday to inject new momentum into their strategic partnership and economic ties by strengthening cooperation at the local level.
The vow came a day after they agreed to combine their efforts to build the Silk Road Economic Belt proposed by Xi in September 2013.
Belarus was the final stop in a three-country tour by Xi.
Addressing the opening ceremony of the China-Belarus Local Trade and Economic Cooperation Forum, he said his government will encourage provinces to cooperate with regions in Belarus based on their particular characteristics and resources.
This will "foster new growth points for practical cooperation" and help promote economic integration between the two economies, he told 500 participants.
Lukashenko said cooperation at the local level is a bright prospect.
"Our door will be wide open to Chinese investors; you are welcome to invest and set up plants in Belarus," he said, adding that Chinese will benefit from a favorable investment policy and environment in his country.
As a demonstration of the push for closer links, Xi and Lukashenko witnessed the signing of cooperation agreements between eight Chinese provinces and seven Belarusian regions on Sunday.
While meeting the media on Sunday, the Belarusian president said his country would have benefited greatly from developing sound ties with just one of China's provinces.
"But now we already have eight," he added.
Facing declining demand from the West and its giant neighbor Russia, Belarus, with a population of more than 9 million, has been courting trade and investment from the world's second-largest economy.