Belarus looks to China's example
Updated: 2015-05-08 07:47
By Fu Jing in Minsk (China Daily)
Comments
Print
Mail
Large
Medium
Small
Shenzhen, Guangdong province, was a fishing village in the late 1970s. Now, it's a booming economic powerhouse with global reach. Seeing the success, Belarus, in Eastern Europe, is determined to try its luck in repeating the feat over the next 20 years.
China and Belarus are teaming up to turn a remote 90-square-kilometer area beside Minsk airport into a high-tech industrial park.
Focused on high-end manufacturing, chemicals, electronics, information, new materials, bio-tech engineering and logistics, the zone will be open to investors globally, offering preferential polices such as tax breaks and one-stop registration services.
"We will be ready to let the first group of resident companies move in by the end of next year," said Li Haixin, general manager of China-Belarus Industrial Park Development Co. His company is now responsible for infrastructure construction - roads and networks, for example - in the China-Belarus Industrial Park.
Six Chinese companies have registered to move into the park and nine others have expressed interest. Russian and German investors have also shown interest.
Later this month, President Xi Jinping and his counterpart, Alexander Lukashenko, will inject new impetus for speedy construction of the park, which resulted in part from Belarus' strong support of Xi's Silk Road initiative, Li said. Xi will inspect the area during the last leg of his three-country visit.
During Xi's visit, the heads of state will witness dozens of Chinese investors sign contracts to become resident companies of the fledgling park, which has already attracted Chinese conglomerates such as China National Machinery Industry Corp (Sinomach) and telecommunication manufacturer ZTE Corp.
Li said the park will be completed in two phases. It will take eight to 10 years to finish the first phase, which covers 8.5 square kilometers. Another dozen years will be required for full build-out. Construction work starting last year has focused on the core area of 3.5 square kilometers.
"It is a long-term project. And actually, upon its completion, it is a new city in the forest, which is picturesque," said Li. "We hope it will house more than 200,000 residents, which is a big benefit for job creation for Belarus."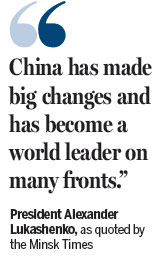 Over the past three years, Lukashenko made two presidential decrees to lay a legal foundation for the park and its investors. The land will be leased for 99 years without charge, and investors will be given major tax-free benefits during the first 10 years. In the second 10 years, the government will tax at one-half the normal rate.
"This is attractive, and every day I am talking with interested investors," said Li. The park is located along the Berlin-Moscow corridor, and lies adjacent to the Minsk airport. "Out of five location options, we finally decided to build here," Li said.
In a previous interview, Lukashenko called the industrial park the country's most important joint project and expressed a desire to speed up construction ahead of Xi's visit. "China has made big changes and has become a world leader on many fronts," Lukashenko was quoted by the Minsk Times newspaper as saying. "We need to learn."
Jaroslav Romanchuk, president of the Scientific Research Mises Center and deputy chairman of the United Civil Party of Belarus, also agreed that his country should learn from China's transition period, which he believes is a wonder of development. "This project is an example for us to benefit from China's miracle and if I am president, I will be taking more aggressive measures to speed up," said Romanchuk, a leading economist and a 2010 presidential candidate in Belarus.
fujing@chinadaily.com.cn