Experts: Joint helicopter deal to help sector take off
Updated: 2015-05-12 04:16
By Zhao Lei (China Daily)
Comments
Print
Mail
Large
Medium
Small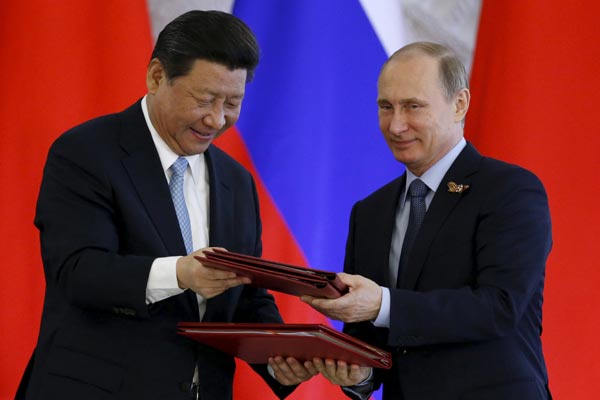 Russia's President Vladimir Putin (R) and China's President Xi Jinping attend a documents signing ceremony during their meeting at the Kremlin in Moscow, Russia, May 8, 2015. [Photo/Agencies]
Sino-Russian cooperation over the development of a new advanced heavy-lift helicopter will significantly strengthen the two countries' capabilities in this area, according to aviation experts.
President Xi Jinping and his Russian counterpart, Vladimir Putin, witnessed the signing of a cooperation framework agreement on the helicopter project at the Kremlin on Friday.
Considering China's level of technological competence in the aviation industry, it would be very difficult for the country to develop a heavy-lift helicopter on its own," said Wang Ya'nan, deputy editor-in-chief of Aerospace Knowledge magazine.
Russia has been eager to upgrade its heavy-lift helicopters such as the Mil Mi-26, but it lacks sufficient funds. The collaboration will make the best use of resources and meet both sides' need for a better helicopter."
Wang said Russia has a strong aviation industry that has developed helicopters that rank alongside those produced by leading manufacturers in the United States and France.
China is catching up rapidly in the helicopter sector as the government is pouring investment and resources into aviation," he added. Though the new helicopter will use Russia's turboshaft engine, China can contribute its avionics systems and advanced materials, gearbox and blade technologies."
The agreement was signed by Lin Zuoming, chairman of Aviation Industry Corp of China, and Alexander Mikheev, CEO of Russian Helicopters, AVIC said in a statement released on Sunday.
The two sides' cooperation on a heavy-lift helicopter is a strategically important project that has attracted considerable attention from the two presidents," the statement said.
The companies have reached agreement on the technological plan, collaboration methods and each side's responsibilities."
The helicopter will meet China's need for heavy-lift aircraft for disaster relief and emergency response, it added.
Russian Helicopters, the country's only helicopter manufacturer, said the aircraft will have a takeoff weight of 38 metric tons, and will be able to carry 10 tons of cargo in the cabin or 15 tons on an external sling.
It will be capable of operating round-the-clock in hot climates, over mountainous terrain and in all weather conditions, and will be suitable for a wide range of missions in addition to transportation, including medical evacuation and firefighting.
Russian Helicopters is uniquely well qualified when it comes to building heavy-lift helicopters," Lin said. I believe that working together with Russian Helicopters to create an advanced heavy-lift helicopter will have a positive influence on the development of China's helicopter industry."
Huang Chuanyue, deputy chief engineer at Avicopter, AVIC's helicopter division, said: China and Russia can complement each other in heavy-lift helicopter technologies. Russia has rich experience in design and manufacturing, while Chinese engineers are better than their Russian peers when it comes to composite materials and aerodynamics."
According to earlier reports in the Russian media, the companies have been discussing the project since 2008, when two Mil Mi-26 helicopters, the largest and most powerful helicopter in the world, took part in transportation and evacuation tasks following the Sichuan earthquake.
There are currently three Mi-26s in service in China, and a fourth is due to be delivered this year.
Vasily Kashin, a senior China analyst at the Center for Analysis of Strategies and Technologies in Moscow, told Russia's Sputnik News Agency that negotiations over the new helicopter project lasted several years because the two sides could not agree on its payload until recently.
He said China has many mountains, deserts and islands, so heavy-lift helicopters can play an important role in the civil sector.
Russian Helicopters cited an estimate by experts who said demand for the new helicopter in China could exceed 200 aircraft by 2040.