Chinese banks ink yuan deals with ROK
Updated: 2014-07-05 06:56
By Cai Xiao (China Daily)
Comments
Print
Mail
Large
Medium
Small
Countries agree to trade currencies and boost RMB trading on Korea Exchange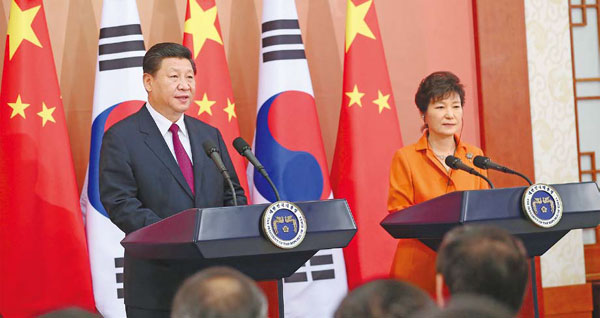 President Xi Jinping (left) and his Republic of Korea host, President Park Geun-hye, meet journalists after talks in Seoul on Thursday. Yao Dawei / Xinhua
Bank of Communications, China's fifth-biggest lender, was appointed as the yuan clearing bank in South Korea, China's central bank said on Friday.
Meanwhile, Bank of China and the Korea Exchange, South Korea's main bourse operator, inked a memorandum of understanding in central Seoul to cooperate in expanding the offshore yuan market.
Under the terms of the deal, the two sides will work together in listing yuan-denominated financial products on the Korea Exchange while jointly developing new financial products in the Chinese currency.
Leaders of the two countries agreed on Thursday to directly trade their currencies to further boost yuan trading in South Korea. An 80-billion-yuan ($12.9 billion) quota under China's Qualified Foreign Institutional Investor system also was granted to South Korea.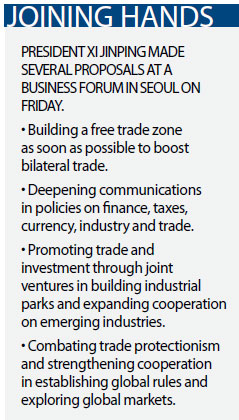 South Korea's ability to buy securities in China will be a good way to use its yuan deposits but will have only a small influence on China's stock market in the short and medium terms, experts said.
The quota under the Renminbi Qualified Foreign Institutional Investor program was announced in a statement by the Bank of Korea and South Korea's finance ministry on Thursday during President Xi Jinping's visit to Seoul.
"The quota is good for South Korea to use its large yuan deposit," said Hong Hao, a managing director and chief strategist at BOCOM International Holdings, an investment banking and securities company.
South Korean residents' yuan deposits jumped 70 percent to the equivalent of $11.33 billion in the first five months of 2014, Bank of Korea data showed.
Hong said RQFII quotas for other countries have not been used up, mainly because global investors have felt uncertain about the Chinese stock market as China's economy weakened.
The RQFII quota awarded on Thursday was the same one China gave to London and Paris, and compares with the 50-billion-yuan quota for Singapore and the 270-billion-yuan quota for Hong Kong.
By the end of June, 71 institutions received RQFII quotas totaling 250.3 billion yuan, according to data from the State Administration of Foreign Exchange.
caixiao@chinadaily.com.cn