Xi's visit new milestone for China-S.Korea ties: Chinese FM
Updated: 2014-07-05 07:13
(Xinhua)
Comments
Print
Mail
Large
Medium
Small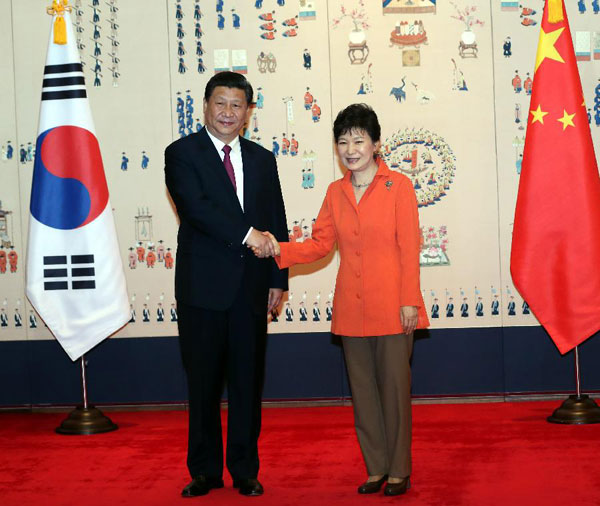 Chinese President Xi Jinping (L) shakes hands with South Korean President Park Geun-hye in Seoul, South Korea, July 3, 2014. [Photo/Xinhua]
BEIJING - Chinese President Xi Jinping's short yet fruitful visit to South Korea set a new milestone for the future development of bilateral ties, Chinese Foreign Minister Wang Yi said Friday.
China-South Korea relations have achieved comprehensive and rapid development since the establishment of diplomatic relations 22 years ago, said Wang, noting that China has become South Korea's biggest trading partner and No.1 destination of overseas investment.
Against this backdrop, Xi's visit, his first visit to South Korea since took office last year, is set to boost the friendship between the two peoples and lift bilateral relations to a new height, said Wang.
"President Xi said that China and South Korea should be partners that share common development, jointly promote regional peace and Asia's revitalization, and boost world prosperity," said Wang.
"Thus Xi greatly enriched the content of the China-South Korea strategic cooperative partnership and charted a new course for the future development of the bilateral ties," he said.
In a speech delivered at the Seoul National University on Friday, Xi noted that while the Chinese people are striving to realize the Chinese dream of national rejuvenation, the South Korean people are committed to their dream of creating an "era of national happiness."
Xi said that the convergence in development provides historical opportunities for the two countries to cement cooperation and China will always safeguard peace, promote cooperation and keep a learning mind.
In this visit, the two countries agreed to respect each other's social system, developing path and core interests, support each other's peaceful development and share developing opportunities, said Wang.
They will also maintain frequent high-level communication and further deepen mutual understanding and trust via cooperative mechanisms on different level.
"Xi's visit enhances bilateral cooperation between China and South Korea and promotes mutual benefit and win-win cooperation," said Wang.
"The China-South Korea joint statement confirms over 90 cooperative programs, covers 23 fields and shows the broad prospect of China-South Korea comprehensive and mutually-beneficial cooperation," he noted.