Xi calls for co-op on nuclear security
Updated: 2014-03-25 07:09
By Wu Jiao in The Hague, the Netherlands (chinadaily.com.cn)
Comments
Print
Mail
Large
Medium
Small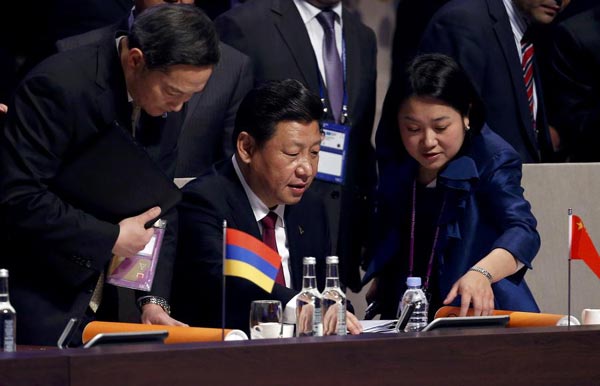 President Xi Jinping attends the opening session of the Nuclear Security Summit (NSS) in The Hague March 24, 2014. [Photo/Agencies] 
Chinese President Xi Jinping said China will continue to strengthen its own nuclear security capability, and stay firmly committed to building the international nuclear security system and supporting global cooperation.
Xi made the remarks while elaborating on his country's approach to nuclear security at the third Nuclear Security Summit (NSS) in The Hague in the Netherlands on Monday, urging global cooperation for nuclear energy's lasting security and development.
Aimed at preventing nuclear terrorism, the summit seeks to reduce the amount of dangerous nuclear materials in the world, improve security of all nuclear materials and radioactive sources, and beef up international cooperation.
Together with Xi, leaders from more than 50 countries and international organizations have gathered for the summit.
In a speech to summit, Xi said the use of nuclear energy gave new impetus to the progress of humanity, yet mankind must be able to respond to various nuclear security challenges, and ensure the safety of nuclear materials and facilities.
While giving details of China's approach to promoting nuclear security, he said the world should place "equal emphasis" on development and security, and develop nuclear energy on the premise of security.
He warned that developing nuclear energy at the expense of security can neither be sustainable nor bring real development.
Xi urged all nations to fulfill their duties under international legal instruments regarding nuclear security, and implement relevant UN Security Council resolutions.
"While addressing the importance of countries honoring their international obligations, we should respect their right to adopt nuclear security policies and measures best suited to their specific conditions," said Xi.
Xi also noted that nuclear security remains a global endeavor, urging that more countries should be brought into the international nuclear security process.
"We should strengthen exchanges to learn from each other and share experience, and improve coordination between the relevant multilateral mechanisms and initiatives," he added.
According to Xi, to effectively eliminate risks of nuclear security and nuclear proliferation, the international community should improve relevant policies and measures, develop modern, low-risk nuclear energy technologies, maintain balanced supply and demand of nuclear materials, strengthen non-proliferation efforts, and promote international cooperation against nuclear terrorism.
China has tightened nuclear security measures, improved technology and emergency response, and conducted comprehensive nuclear security checks on nuclear facilities across the country, Xi added.
The NSS, initiated by US President Barack Obama, has become an important platform to address nuclear security issues. Its first meeting was held in Washington in 2010. The second meeting was held in Seoul in 2012.