Xi, UN chief exchange views on Ukraine issue
Updated: 2014-03-24 10:30
(Xinhua)
Comments
Print
Mail
Large
Medium
Small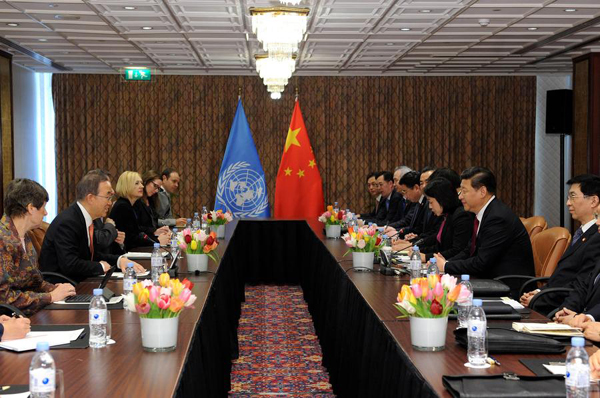 Chinese President Xi Jinping (2nd R) meets with UN Secretary-General Ban Ki-moon (2nd L) in Noordwijk, the Netherlands, March 23, 2014. [Photo/Xinhua]
NOORDWIJK, the Netherlands - Chinese President Xi Jinping met with UN Secretary-General Ban Ki-moon on Sunday, exchanging views on the Ukraine issue.
The UN chief briefed Xi on UN's latest mediation efforts on the crisis.
Xi noted that the spillover effects of the Ukraine crisis have been very obvious recently and are relevant to the interests and concerns of all parties involved.
The crisis should be solved in a balanced manner, said Xi.
The Chinese side has raised a three-point proposal, hoping all the parties involved will seek maximum common ground and avoid going to extremes again, Xi said, adding that the most urgent issue at present is to find a solution to the crisis.
He spoke highly of the UN chief's mediation efforts over the issue and voiced his support for the UN's important role in pushing for a political solution to the crisis.
Expressing his hope for a peaceful solution to the Ukraine issue through dialogue, Ban said China, a permanent member of the UN Security Council, plays an important role in pushing forward the political settlement.
"I am willing to maintain communication with China on this issue," he said.
Xi and Ban are both in the Netherlands to attend the third Nuclear Security Summit to be held in The Hague on Monday and Tuesday.
Related:
China urges restraint in Ukraine
China urges against confrontation on Ukraine crisis
China makes proposals on Ukraine crisis