Chinese, Ecuadorian presidents eye stronger bilateral ties
Updated: 2014-07-17 15:28
(Xinhua)
Comments
Print
Mail
Large
Medium
Small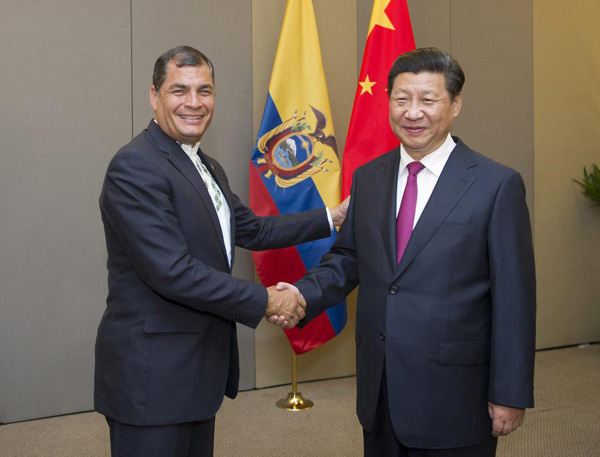 Chinese President Xi Jinping meets with Ecuadorian President Rafael Correa in Brasilia, Brazil, July 16, 2014. [Photo/Xinhua] 
BRASILIA - Chinese President Xi Jinping met here on Wednesday with his Ecuadorian counterpart Rafael Correa, and the two leaders vowed to build stronger ties between their countries.
Xi is on a state visit to Brazil, but he also arranged a flurry of bilateral meetings with leaders of some Central and South American countries, including Ecuador.
According to Xi, Ecuador is an important partner of energy cooperation and a major investment destination of China in Latin America.
Cooperation between the two sides has been productive on the basis of mutual benefit, he said.
China helps Ecuador without imposing any political condition, and supports the Latin American nation to explore a development path that conforms to its national conditions, Xi said.
He noted that China is willing to exchange experiences with Ecuador on state governance, promote pragmatic cooperation and people-to-people exchanges, and keep close contact with Ecuador in international affairs.
The two sides should maintain high-level exchanges, continue to support each other on issues of core interests and major concerns, Xi said, adding that he would like to join hands with his Ecuadorian counterpart to develop the two countries' ties to a higher level.
Xi lauded Ecuador's support in the development of China-Latin America relations, hoping that, as Ecuador assumes the rotating presidency of the Community of Latin American and Caribbean States (CELAC) next year, it can make greater contribution to the all-round cooperation between China and Latin America and the development of the China-CELAC forum to be established soon.
For his part, Correa said the Ecuadorian people love China, admire the country's long history, culture, and reform and opening-up achievements.
Ecuador, as one of the smallest countries in South America, receives respect from China who offers help to the country's social and economic development, and the Ecuadorian people's life is bettered thanks to China's support in many development projects, said Correa.
Ecuador is willing to be a friend of China in Latin America and promote the development of relations between China and Latin America, he said.
Correa added that his country is firmly committed to developing a close friendly cooperative relationship with China, and welcomes more Chinese investment.
Background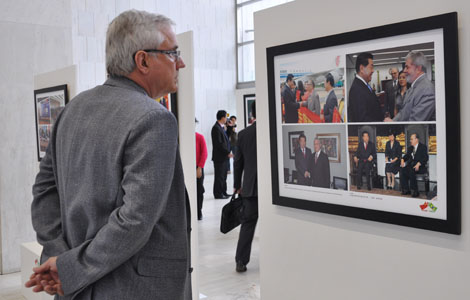 Feature