BRICS set to play bigger role in global governance
Updated: 2014-07-15 04:34
By Chen Longxiang (China Daily)
Comments
Print
Mail
Large
Medium
Small
Government officials and experts from BRICS countries speak optimistically of the group's upcoming summit, which they said will become another milestone of cooperation for the five nations.
They also said they hope that the cooperation mechanism will continue to contribute to world peace, stability and prosperity.
President Xi Jinping is attending the sixth annual BRICS leaders' meeting, with the theme "Sustainable Solutions for Inclusive Growth", in Brazil this week.
Vice-Foreign Minister Li Baodong said that the BRICS countries — Brazil, Russia, India, China and South Africa — have formed a multitiered and extensive cooperation framework. The BRICS has become an important force in coping with the international financial crisis, driving global economic growth and promoting international democratization, he said.
The BRICS countries are preparing to set up a development bank that will provide new financing channels and funding support for BRICS countries, other emerging economies and developing countries that are carrying out massive infrastructure construction and renovation, said Fan Yongming, director of the Center for BRICS Studies at Fudan University.
"The Contingency Reserve Arrangement is vitally important for BRICS countries to build a financial security network and for emerging market economies to better cope with the risk of international capital flow and the impact of financial turmoil," Fan said.
"It reflects developing countries' urgent hope for accelerated reform of the existing international financial system, and it will be a useful supplement to the existing international financial system."
Yao Zhizhong, deputy director of the Institute of World Economics and Politics, Chinese Academy of Social Sciences, said that the pragmatic cooperation among BRICS countries is turning the BRICS mechanism from a concept into a reality, and it has become an important force in making up the shortcomings of current global governance.
"The development bank will be the first entity established by BRICS countries. Starting from this entity, the BRICS cooperation mechanism will become more and more substantial," Yao said.
Svetlana P. Glinkina, deputy director of the Institute of Economics, Russian Academy of Sciences, said that the development bank will open the perspective to more efficiently allocate global financial resources, attracting funds for long-term projects in developing and emerging-market economies.
The currency reserve will play a specific role against the background of leading Western countries' exit from quantitative easing, a policy pursued under slack world-economy dynamics, which results in capital outflow from markets of developing countries and which forces many developing countries to depreciate their national currencies, Glinkina said.
Elizabeth Sidiropoulos, chief executive of the South African Institute of International Affairs, said that the Fortaleza summit will offer insights into the BRICS' relations with both the rich and developing worlds, but it is the group's relationship with other major emerging countries that is most important.
"BRICS cannot legitimately claim to speak for emerging economies in a world in which the likes of Indonesia, Turkey and Nigeria remain on the outside. The BRICS group is too important to ignore, but currently too small to decisively speak for tomorrow's great powers. The structure of the development bank should provide insights into the long-term future of the group's membership," she said.
chenlongxiang@chinadaily.com.cn
Background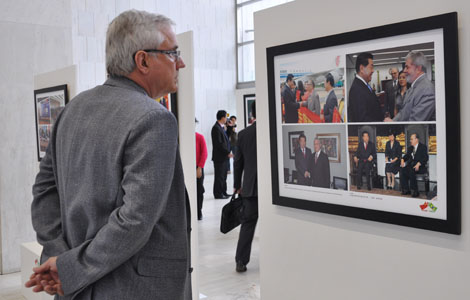 Feature