China, NZ set canvas for cooperation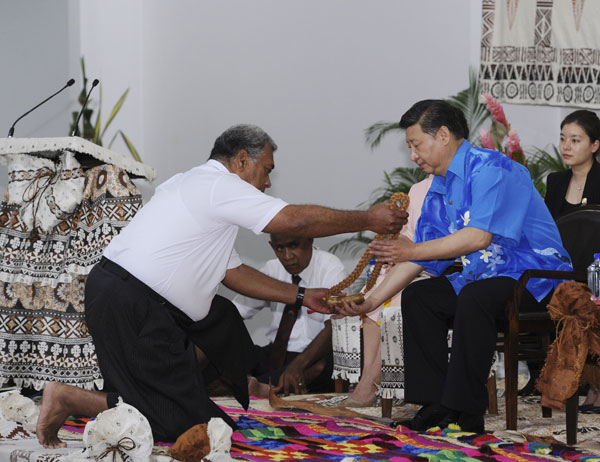 President Xi Jinping receives a whale's tooth during a traditional welcoming ceremony in Nadi, Fiji, on Friday following his visit to New Zealand where the two countries signed 10 agreements covering various fields. RAO AIMIN / XINHUA
The Sino-New Zealand relationship, compared by President
Xi Jinping
to "an oil painting", took on a deeper, enriching hue on Friday as more brush strokes were applied, with a mayoral forum being set up and joint projects inaugurated.
The China-New Zealand Mayor Forum, launched in Auckland in the presence of Xi and New Zealand Prime Minister John Key, aims to enhance local government and provincial-level cooperation between the two countries.
More than 30 pairings of sister cities are shared between the nations, and mayors from seven Chinese cities and eight New Zealand cities took part in the launch ceremony.
Xi and Key also inaugurated the Bank of China (New Zealand) and China Construction Bank (New Zealand), as well as a plant for China's leading dairy provider Inner Mongolia Yili Industrial Group and a joint laboratory to study kiwi fruit.
Xi, on his first state visit to the country, said the Chinese and New Zealand economies are highly complementary.
China is speeding up industrialization and urbanization, and boosting its agricultural sector, he told the mayors, urging New Zealand to grasp the increasing opportunities provided by China.
Key said New Zealand and China have a tremendous future together and there are numerous opportunities for them to hope for a higher and better standard of living for their people.
"For that relationship to be truly successful, it is not just a matter of central governments working together or indeed people working together. It is also very important that we make sure that our local governments intertwine and work closely together," he said.
Lawrence Yule, mayor of Hastings, a city on New Zealand's North Island, and president of Local Government New Zealand, said the agreement to enhance cooperation at local levels is a significant step.
It is aimed at "effectively building a level of sub-national engagement between the two countries that supports our regional development policy".
Yule said that in the next decade China's outbound investment is forecast to exceed $1.25 trillion, and "we want to ensure that New Zealand, and most importantly our regions, attract some of this investment."
Chinese mayors are particularly interested in New Zealand's agriculture, tourism, technology and education, The New Zealand Herald reported.
On Thursday, the countries sealed 10 agreements covering various fields including finance, food safety, education and tourism.
Chen Mingming, former Chinese ambassador to New Zealand, said more exchanges at local level will deepen the public's involvement in the relationship, and the new projects will accelerate such exchanges.
The bank deals will reduce trade costs, and China, New Zealand's top trading partner, can learn advanced management techniques from the joint dairy projects with New Zealand, a global leader in agriculture, Chen added.
Contact the writer at wujiao@chinadaily.com.cn
Wang Xu in Beijing contributed to this story.