Xi gets a double welcome on Fiji trip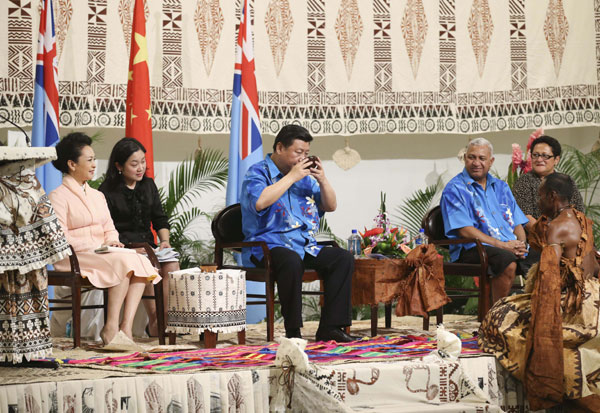 Visiting Chinese President Xi Jinping (C) attends a traditional welcoming ceremony held by Fijian Prime Minister Josaia Voreqe Bainimarama in Nadi, Fiji, Nov. 21, 2014. [Photo/Xinhua]
Improved ties key to success of the island's Look North policy, PM says
President Xi Jinping, the first Chinese head of state to visit Fiji, received two welcomes on Friday - one when he arrived at the airport, and a traditional one later.
The hospitality reinforced what Fijian President Epeli Nailatikau said, that improving Sino-Fiji relation is a cornerstone of his country's Look North policy.
Fiji is committed to national stability and development and would like to strengthen cooperation with China, Nailatikau told Xi when they met in Nadi.
Describing Fiji as a sincere friend and important partner in the Pacific Islands, Xi said China supports the country's efforts to develop its economy and boost living standards.
After the talks, Xi, wearing a colorful Fijian shirt, received a traditional-style welcome from Prime Minister Josaia Voreqe Bainimarama. The prime minister also gave Xi a red-carpet reception when his plane touched down at the Nadi airport.
On Saturday, Xi will have separate talks with Bainimarama and leaders from seven other Pacific countries - Papua New Guinea, Vanuatu, Micronesia, Samoa, Tonga, the Cook Islands and Niue.
A series of documents and deals are expected be signed by China and each of the countries after the meetings. The agreements will cover areas such as finance, education, training and infrastructure construction.
Xi and the eight leaders will have a collective meeting on Saturday afternoon, during which he is expected to set out China's policy toward the Pacific island countries and announce major measures to enhance cooperation and support development.
Huang Yong, China's ambassador to Fiji, said, "The goal of the trip is to jointly chart the future of China-Pacific ties and promote practical cooperation and friendly exchanges."
Hua Junduo, a former ambassador to Fiji, said Sino-Fijian cooperation is mutually beneficial. The island country has rich natural resources, such as wood and sugar, that it can export to China, and China can provide expertise and funding to support development.
Fiji, the first South Pacific island country to forge diplomatic ties with China, is seeking to improve diplomatic ties with countries such as China and the Arab states through its Look North policy.
It is by far the most populous and economically powerful of the South Pacific island nations, and is seen as a regional hub for business and diplomacy.
Closer cooperation with Fiji would encourage other countries in the region to foster ties with China, Hua said.
China has offered aid and loans to Pacific Island nations, and has expanded cooperation with the eight countries in areas including agriculture and minerals. Trade volume between China and these countries reached $4.42 billion in 2013.
Many Fijians have welcomed Chinese investment. One of the first Chinese projects, the 4,000-seat Vodafone Stadium in the capital, Suva, was built in 2002 and remains central to life in the city, according to Dow Jones.
Fiji is Xi's last stop on a three-nation tour that has also taken him to Australia and New Zealand. He is due to return to Beijing on Sunday.
Contact the writers at wujiao@chinadaily.com.cn and zhaoshengnan@chinadaily.com.cn