Xi hopes New South Wales grasp opportunities to expand co-op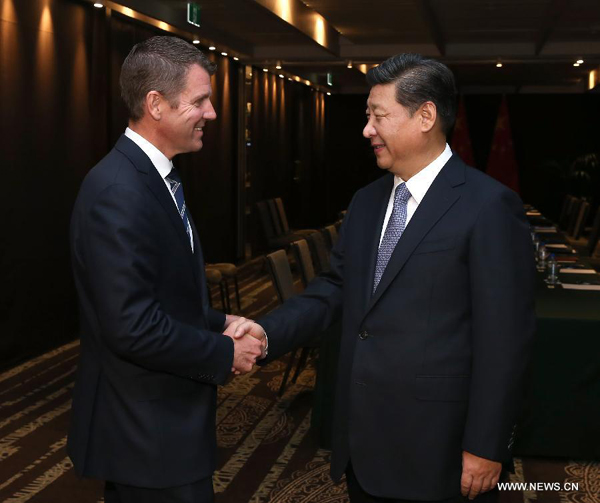 Chinese President Xi Jinping (R) meets with New South Wales Premier Mike Baird in Sydney, Australia, Nov 19, 2014. [Photo/Xinhua]
SYDNEY - Visiting Chinese President Xi Jinping said in Sydney on Wednesday that China-Australia ties are now at their best in history and New South Wales has good chances to expand cooperation with China.
China and Australia have decided to upgrade their ties to a comprehensive strategic partnership, practically conclude bilateral negotiations on a free trade agreement (FTA), and establish a communication and cooperation mechanism between governors of the two countries' provinces and states, Xi said during a meeting with New South Wales Premier Mike Baird.
All these have opened a broader prospect for New South Wales to strengthen its cooperation with China, Xi added.
The Chinese president hoped the Australian state will catch these opportunities to expand its cooperation with China in fields such as economy, trade, finance, culture, education and tourism, he said.
For his part, Baird said that Xi's visit has significantly promoted the two nations' cooperation, and the practical conclusion of the FTA and the establishment of an RMB clearing bank will provide more opportunities for his state.
He said the Australian side supports the exchanges between the two countries' regions and cities and is committed to developing long-term friendship and cooperation with China.
On the same day, Xi's wife Peng Liyuan, accompanied by Baird's wife Kerryn, visited a local girls school and was warmly welcomed with a "dance of dragon" by Australian students in traditional Chinese costume.
In a Confucius classroom of the school, she encouraged the students to study the Chinese language well so as to better understand Chinese history and culture and carry forward the China-Australia friendship.
Sydney is the last stop of Xi's state visit to Australia. He will fly to New Zealand later on Wednesday to continue his South Pacific trip, which will also take him to Fiji.