Xi visits family of old friend in Australia, fulfilling commitment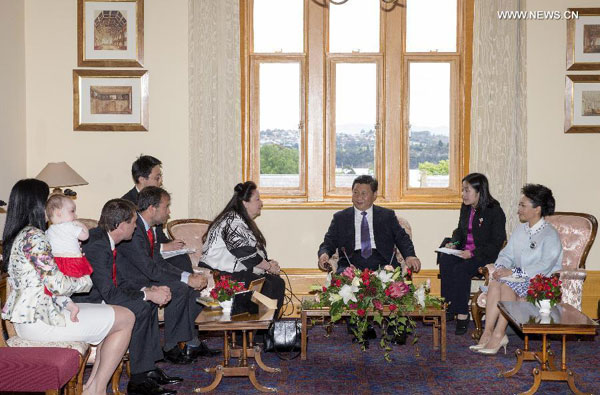 Chinese President Xi Jinping (3rd R) meets with the family of late Tasmanian Premier Jim Bacon in Tasmania state, Australia, Nov 18, 2014. [Photo/Xinhua]
HOBART, Australia - Chinese President Xi Jinping on Tuesday met the family of late Tasmanian Premier Jim Bacon during his historic visit to southeastern Australia'a Tasmania state.
During the visit, Xi recalled the Bacon's trip to China in 2001 when Xi was governor of China's southern province of Fujian, which had established a sister state relationship with Tasmania.
"Bacon invited me to visit Tasmania then and I agreed. I came here today to fulfil my commitment to him," he said, praising Bacon as an old friend of the Chinese people for his contribution to the relations between China and Tasmania as well as Australia.
The president appreciated the Bacon family's commitment to the friendly exchanges and cooperation with China and invited them for further visits to China.
Honey Bacon, Bacon's widow, said his husband had profound feelings towards China and Fujian during his lifetime and wished to receive Xi in his hometown. She thanked the Chinese president for taking the time to meet them, which fulfilled a long-cherished wish of Bacon.
Honey, who is a member of the Australia-China Friendship Association, said the Bacon family have inherited the traditional friendship with China. Her eldest son Mark Bacon, a business consultant, said he will be actively involved in the economic and trade cooperation with China.
The Bacon family showed Xi the photos of Bacon's past visits to China. Honey presented to Xi her oil painting, which shows Tasmania's natural scenery.
During his one-day visit, the Chinese president also met with Tasmanian Premier Will Hodgman and Lieutenant Governor Alan Blow.
Xi said that he was a witness of friendly exchanges between China and Tasmania. The sister state relationship between Tasmania and Fujian has lasted for 33 years, which promotes local exchanges and cooperation between the two countries, he said.
Hailing Tasmania's uniqueness in Australia, Xi said the island state has great potential for cooperation with China. As China and Australia agreed to upgrade their relationship to a comprehensive strategic partnership and build a free trade zone, he hoped that China and Tasmania would seize the opportunity to strengthen cooperation in economy, trade, agriculture, forestry and tourism.
Blow and Hodgman warmly welcomed Xi's visit on behalf of Tasmanian people. Xi is an old friend of Tasmanian people and this visit is of historic significance, they said, stressing that China is also the state's largest trading partner and biggest source of investment, overseas students and tourists.
Xi is on a state visit to Australia after attending a G20 summit in Brisbane.
Australia is the first leg of Xi's ongoing three-nation tour, which will also take him to New Zealand and Fiji.
Related Stories:
Xi delivers speech at Federal Parliament of Australia
Xi attends welcoming ceremony by Australian Governor-General Cosgrove
China-Australia ties have bright prospects: Xi