DPRK is a land of surprises for visitors
Updated: 2012-04-19 08:03
By Wu Jiao in Pyongyang. (China Daily)
| | | | | | | | | | | |
| --- | --- | --- | --- | --- | --- | --- | --- | --- | --- | --- |
|   | | Comments() | | Print | | Mail | | Large Medium  Small | 分享按钮 | 0 |
According to Yang Xiyu, an expert with the China Institute of International Studies, the new openness indicates that the new leadership has an open and confident political mindset.
The country's gradual moves toward opening up have attracted an increasing number of tourists. According to Simon Cockerell, a Beijing-based US tour guide who works for Koryo Tours, there are about 12 tourist agencies in the world arranging trips to the DPRK.
Nowadays, as many as 3,500 Europeans travel to the country annually, compared with just 1,000 five years ago, said Cockerell. And the tours aren't cheap, a three-day trip costs about 1,000 euros ($1,311). Cockerell noted that the number of US tourists has grown from 200 in 2007 to around 700 last year. "So far this year, I've brought about 1,500 people here," he said. "The country welcomes us, but the profit it earns from tourism is minimal because the number of tourists is so small."
"Before I came here, most of what I knew (about the country) came from TV. It's a bit more modern than I expected and I think a lot of information about the place is outdated," said Michael Woodfood, a US tourist.
The increased economic interaction has also improved the lives of the locals. Overseas workers based in the country said a growing number of people in Pyongyang now shop in markets previously only visited by foreigners.
Foreigners, who mostly shop in stores that only accept payment in foreign currency, such as the euro, the dollar or Chinese yuan, said they were surprised that the local people have foreign currency in their wallets, as most only receive a monthly salary of around 2,000 DPRK won ($15).
One foreign worker said some locals trade with foreign countries by exporting natural resources and water-related goods. A joint industrial park with the ROK in the border area also provides hard cash.
However, while people are encouraged by signs of a potential policy watershed, the country's future direction remains unclear. On Tuesday, the DPRK rejected UN condemnation of its rocket launch and said it would no longer adhere to an agreement with the US to freeze its nuclear and missile programs. That rejection has resulted in calls for harsher sanctions to be imposed on Pyongyang.
But some observers said keeping the DPRK engaged with the outside world is a better solution to the Korean Peninsula crisis.
Katharina Zellweger, who has lived in Pyongyang for five years and served as the director for the Swiss Agency for Development and Cooperation in the DPRK, told Yonhap News last month that helping resolve the country's economic difficulties is the precondition to a change in its attitudes toward the outside world. She urged the international community to provide aid to the DPRK and emphasized that dialogue is the best way to promote further opening up.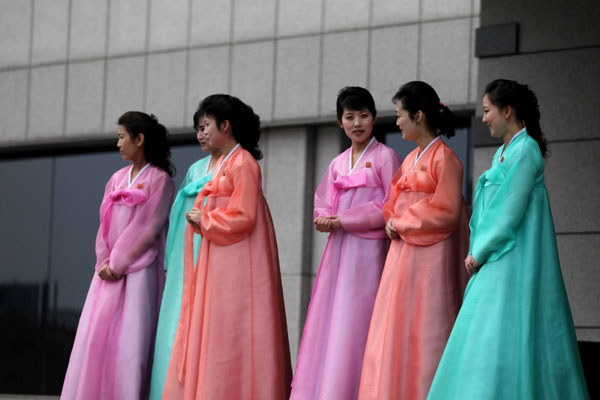 Women dress up for the celebration. Wang Jing / China Daily
A man passes a mural of Kim Il-sung and Kim Jong-il in a factory in Pyongyang. Wang Jing / China Daily