Toxic liquor kills 131 in eastern India
Updated: 2011-12-16 06:56
(China Daily)
| | | | | | | | | | | |
| --- | --- | --- | --- | --- | --- | --- | --- | --- | --- | --- |
|   | | Comments() | | Print | | Mail | | Large Medium  Small | 分享按钮 | 0 |
KOLKATA, India - A batch of home-brewed liquor thought to have been laced with the highly toxic chemical methanol has killed 131 people in eastern India, an official said on Thursday.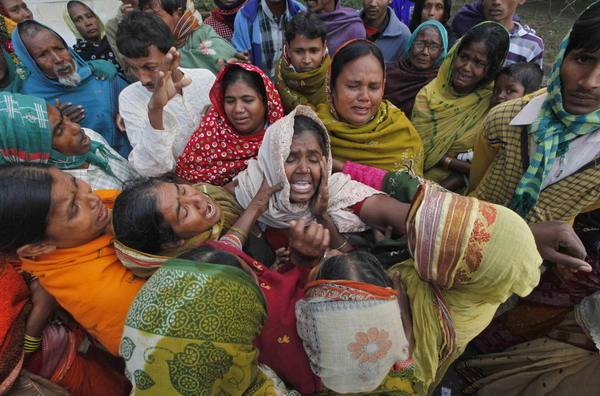 Family members mourn for their relatives, who died after consuming bootleg liquor, outside a hospital at Diamond Harbour, a town about 50 km (31 miles) south of West Bengal's capital Kolkata, December 15, 2011. An adulterated batch of bootleg liquor has killed at least 100 drinkers in eastern India, with dozens more arriving at a cramped rural hospital with poisoning symptoms. [Photo/Agencies]
Hospitals near the impoverished district 30 kilometers south of West Bengal state capital Kolkata have been overwhelmed by victims, either unconscious or complaining of abdominal pains and burning in their chests.
Many of them were laborers and rickshaw drivers too poor to afford branded alcohol who stopped for a drink at illegal bars or bought from bootleggers after work on Tuesday.
"The death toll has reached 131," district magistrate Narayan Swarup Nigam said, adding that police had arrested 10 people during an investigation into the tragedy in the South 24-Parganas district.
More than 100 other victims were still in hospital, including a 12-year-old boy who apparently mistook the liquor for water, hospital authorities said.
Bootleg liquor is widely consumed across India and is available in the affected area near the border with Bangladesh for as little as six rupees (11 US cents) for a half-liter, a local resident said.
Methanol - a type of industrial-strength alcohol used as anti-freeze or fuel - has been found in the remains of 20 of the victims examined by doctors, leading to suspicion that the chemical is to blame.
It is sometimes added to "moonshine" in small quantities to increase the alcohol content, but it can cause blindness, liver damage and be fatal.
"Methanol was found in the viscera (organs) of at least 20 victims. It may not be the sole reason for the death. We are investigating," said Chiranjib Murmu, superintendent of the local Diamond Harbour Hospital.
The Chief Minister of West Bengal, Mamata Banerjee, has announced an inquiry and said the family of each victim will receive compensation of 200,000 rupees ($3,700).
"I want to take strong action against those manufacturing and selling illegal liquor," Banerjee told a regional television station in Kolkata late on Wednesday.
Agence France-Presse