EU leaders agree fiscal pact
Updated: 2011-12-09 13:51
(Agencies)
| | | | | | | | | | | |
| --- | --- | --- | --- | --- | --- | --- | --- | --- | --- | --- |
|   | | Comments() | | Print | | Mail | | Large Medium  Small | 分享按钮 | 0 |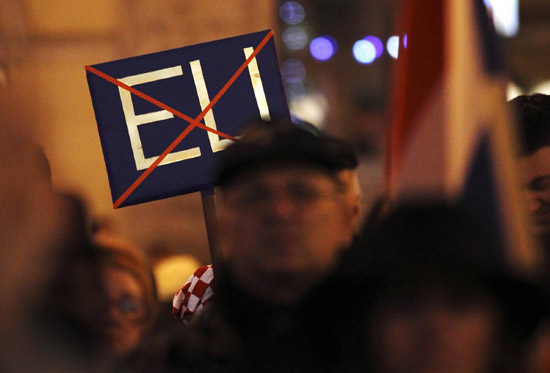 Eurosceptic protesters demonstrate against Croatia's signing of the EU accession treaty at Zagreb's main square December 8, 2011. [Photo/Agencies]
BRUSSELS - European Union leaders sealed a new fiscal pact ensuring tougher budget discipline but failed to agree on a treaty change to enshrine the rules, meaning a deal may now involve the 17 euro zone nations plus any others that want to join, diplomats said.
An agreement involving all 27 EU members fell through - raising the prospect of a two-speed Europe - after British Prime Minister David Cameron demanded concessions that Germany and France were not willing to give, one of the officials said.
"We've always said we would do it at 17 if it didn't work at 27. That's what happened," one senior EU diplomat told Reuters.
The EU leaders, meeting in Brussels, agreed on automatic sanctions for euro area deficit offenders unless three-quarters of states vote against the move, and approved a new fiscal rule on balanced budgets to be written into national constitutions.
"There is a deal between leaders on the new fiscal compact," an EU official told reporters.
After nearly 10 hours of talks running into the early hours of Friday morning, they also decided that the currency bloc's future permanent bailout fund, the ESM, would be capped at 500 billion euros, as Germany had insisted.
It will also not get a banking license, which would have allowed it to draw on European Central Bank funds to increase its firepower, another move Germany objected to.
As soon as the draft summit agreement leaked late on Thursday, a senior German official rejected key measures including letting the future rescue fund, the European Stability Mechanism, operate as a bank, and a long-term goal of issuing common euro zone bonds.
Shares and commodities fell, while the euro remained under pressure, on growing doubts that Europe could forge a credible plan to solve the euro zone's debt crisis.
European Council President Herman Van Rompuy, the summit chairman, wanted all 27 EU states to agree to the rule changes via a minor adjustment to a treaty protocol that could be implemented quickly without requiring full ratification.
But German Chancellor Angela Merkel demanded a fully fledged treaty change to give the measures extra weight.
Merkel and French President Nicolas Sarkozy had said that if all 27 EU states did not support more fiscal union by adapting the existing Lisbon treaty, which took eight years to negotiate, then the 17 euro zone countries should press on alone with more integration.
The danger for Cameron is that if a large majority of EU countries do push ahead with deeper integration, it could involve discussions over changes to the single market and financial regulation, both of which could have a profound impact on the British economy.
"Cameron was clumsy in his maneuvering," another senior EU diplomat said. Efforts continued to get the British to shift their position.