Don't count US, Japan out: Biden
Updated: 2011-08-23 17:08
(Agencies)
| | | | | | | | | | | |
| --- | --- | --- | --- | --- | --- | --- | --- | --- | --- | --- |
|   | | Comments() | | Print | | Mail | | Large Medium  Small | 分享按钮 | 0 |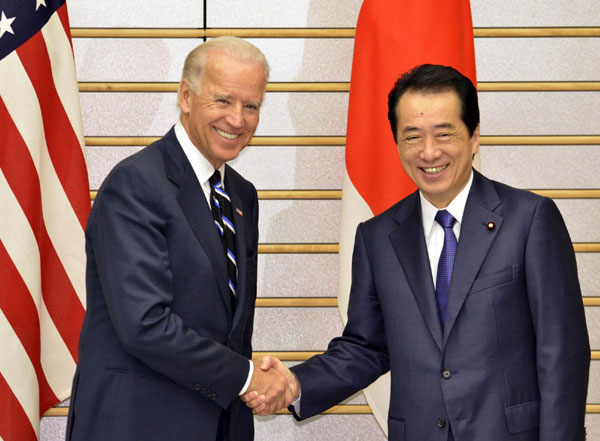 US Vice-President Joe Biden (L) meets Japan's Prime Minister Naoto Kan during their talks at the latter's official residence in Tokyo August 23, 2011. [Photo/Agencies]
SENDAI, Japan - US Vice-President Joe Biden visited Japan's quake-hit northeast on Tuesday and said the country would recover from the disaster just as the United States would overcome its debt crisis, warning doubters not to count the two countries out.
Biden, who kicked off a trip to Asia last week with talks in Beijing, met Japanese Prime Minister Naoto Kan in Tokyo to discuss rebuilding efforts after the March 11 earthquake and tsunami which killed more than 20,000 people and triggered the world's biggest nuclear disaster since Chernobyl in 1986.
In opening remarks, Biden said he had come to Japan to express US admiration for Japan's handling of the earthquake and he made a robust case that neither Japan nor the United States was in decline.
"While you're struggling to deal with one of the greatest natural disasters any country has faced and we are dealing with getting our budget in order, there are voices in the world who are counting us out," Biden said.
"They're making a very bad bet."
Kan thanked Biden for the "enormous assistance" the United States had provided to Japan and said his visit was a positive signal.  
"We are back in business," Kan said, according to a translator. "This visit ... demonstrates to the world that Japan is open for business."
Unpopular Kan will likely resign at the end of this month, his economics minister said on Tuesday, setting the stage for parliament to pick Japan's sixth leader in five years as the country confronts the nuclear crisis and economic woes of its own.
Japanese ties with Washington frayed after the Democratic Party took office in 2009 and then-prime minister Yukio Hatoyama sought to keep a campaign pledge to move the US Marine Corps Air Station, Futenma, off the southern island of Okinawa.
Japan last year agreed with the United States to stick to a 2006 deal to move the base to a less populous area on the island, but the Japanese government has yet to win support for that plan from local residents.
Tomoaki Iwai, political science professor at Nihon University, said the earthquake and political turmoil meant Japan's diplomacy has been non-existent.
"The United States extended great help with its Operation "Tomodachi" (earthquake rescue and relief). So the Japanese side is thankful to the United States," he said.
"But no progress has been made on the Futenma issue and decision ... Japan and the United States remain on good terms, but they have been in a situation where nothing moves forward."
Biden overflew the tsunami wreckage before landing in northeastern Sendai, one of the hardest-hit cities.
On a drive along the coast, he laid flowers on a pile of rocks that were left over from part of landscaping for houses that were destroyed by the tsunami. The area around him was barren of buildings except for a lone house still standing.  
"I came to express not only my commitment to say we will do whatever we can to help, but to tell you how much the president, how much I, how much the American people admire your character," he said.
"I already know that the disaster met its match in the legendary industriousness and relentless perseverance of the Japanese people." 
Hot Topics
The European Central Bank (ECB) held a conference call late on Sunday ahead of the market opening, pledging the ECB will step in to buy eurozone bonds with efforts to forestall the euro zone's debt crisis from spreading.