Strong quake hits US, no major damage
Updated: 2011-08-24 06:44
(Xinhua)
| | | | | | | | | | | |
| --- | --- | --- | --- | --- | --- | --- | --- | --- | --- | --- |
|   | | Comments() | | Print | | Mail | | Large Medium  Small | 分享按钮 | 0 |
WASHINGTON - A magnitude 5.8 earthquake struck US east coast on Tuesday afternoon and was felt in Washington DC, New York City, North Carolina and even in Toronto, Canada.
The quake that lasted up to 45 seconds occurred at 1:51 pm local time (1751 GMT), 135 km southwest of US capital Washington DC, at a depth of six km, the United States Geological Survey ( USGS) reported on its website.
The quake was also felt as far away as Martha's Vineyard, some 500 miles (800 kilometers) away, off the coast of Massachusetts, where President Barack Obama was playing golf during his vacation.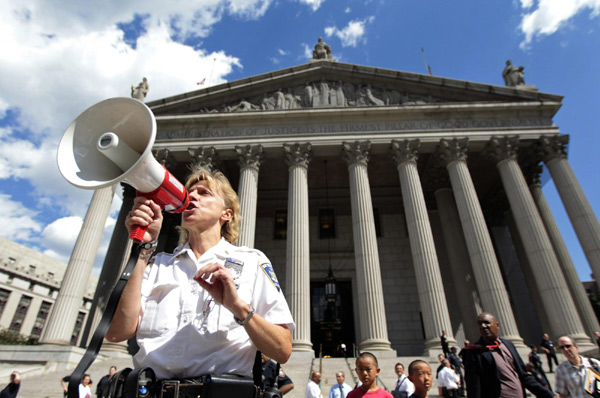 A federal court officer instructs court personnel during an evacuation of the Federal Court Building in New York, following an 5.8 magnitude earthquake that struck the East Coast of the United States, August 23, 2011. The strong earthquakewas felt as far away as Canada on Tuesday, shaking buildings in many cities, delaying flights and trains and sending thousands of frightened workers into the streets. [Photo/Agencies] 
Earthquakes of magnitude 5.5 to 6 usually cause slight damage to buildings and other structures.
According to US Nuclear Regulatory Commission (NRC), two nuclear reactors were automatically taken off-line near quake site in Virginia. NRC officials are assessing the situation and sending people to inspect the site.
US weather service says no tsunami is expected after the quake while the USGS expects aftershocks.
The White House, Pentagon and US Capitol Building in Washington were temporarily evacuated after the quake while telecommunication in some areas was briefly disrupted.
The quake also sent people spilling into the street in Washington DC and many other districts, according to witnesses.
According to Pete Piringer, spokesman for the Washington District of Columbia Fire and Emergency Medical Services, numerous buildings have been damaged due to the quake, including the Ecuadorian embassy and a handful of schools, but so far there are no reports of serious injuries or deaths. He said all city fire trucks and ambulances have been deployed.
The National Park Service also closed and evacuated all National Mall monuments and memorials following the quake.
Passenger train operator Amtrak said in a statement that it is operating trains at reduced speeds between Baltimore and Washington while crews inspect tracks, stations and other rail infrastructure. There were no injuries and passengers should expect delays, it said.
"This is one of the largest earthquakes on the east coast in quite a while, in many decades at least," USGS spokeswoman Lucy Jones told CNN. "It's not unprecedented. But it's one of the largest we've had there."
This is the largest earthquake to hit Virginia since 1897. It is believed that in 1897 seismologists estimated a magnitude 5.8 earthquake hit Giles County.
Zhigang Peng, an earthquake expert at Georgia Institute of Technology also told Xinhua that the quake was "very rare" and the reason is still unknown.
Virginia is not on an active earthquake fault belt and is roughly in the middle of the North American continental crustal plate. But it has residual fault scars left over from 200 million to 300 million years ago, when it was an earthquake zone as the Atlantic Ocean rifted apart from Europe. An earthquake that registered 3.9 hit in 2003, followed by a magnitude 4.5 quake that same year.
According to John Ebel, director of the Boston College Weston Observatory, "It's not an unexpected location for an earthquake."
Unlike earthquakes that occur along a fault line, the Virginia earthquake occurred in the middle of a tectonic plate, due to pressures building up along the edges of the plate, Ebel told The Boston Globe.
"It's more like putting a brick in a vise and cranking the vise, " he said. "The brick will crack in the center."
Obama told no reports of major damage after earthquake
US President Barack Obama discussed with senior administration officials about the strong earthquake which struck the US east coast Tuesday afternoon, and he was told that there are no initial reports of major infrastructure damage, a White House spokesman said.
The president, who is on vacation in Martha's Vineyard, Massachusetts, led a conference call with some top officials including Secretary of the Department of Homeland Security (DHS) Janet Napolitano, White House Chief of Staff Bill Daley, National Security Advisor Tom Donilon, Homeland Security Advisor John Brennan, FEMA Administrator Craig Fugate and others, White House spokesman Josh Earnest said in a statement.
The president was told that there are no initial reports of major infrastructure damage, including at airports and nuclear facilities and that there were currently no requests for assistance, according to the statement, issued hours after the 5.8-magnitude earthquake struck eastern United States.
The powerful earthquake forced airports in Washington, New York, Philadelphia and other major cities in the area to temporarily stop ground operations to allow inspections, though most flights have resumed later Tuesday.
Obama asked for regular updates on the earthquake and status of critical infrastructure, the statement added.
Hot Topics
The European Central Bank (ECB) held a conference call late on Sunday ahead of the market opening, pledging the ECB will step in to buy eurozone bonds with efforts to forestall the euro zone's debt crisis from spreading.