Perry seen easier for Obama to beat
Updated: 2011-08-19 10:15
(Agencies)
| | | | | | | | | | | |
| --- | --- | --- | --- | --- | --- | --- | --- | --- | --- | --- |
|   | | Comments() | | Print | | Mail | | Large Medium  Small | 分享按钮 | 0 |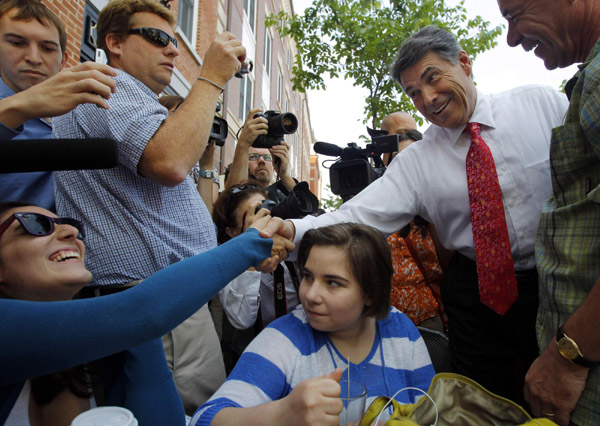 Republican presidential candidate Texas Governor Rick Perry (R) greets diners during a campaign stop at "Popovers on the Square" in Portsmouth, New Hampshire August 18, 2011. [Photo/Agencies] 
CHICAGO - Republican White House hopeful Rick Perry has at least some supporters in the Democratic stronghold of Chicago - President Barack Obama's re-election team.
The Texas governor, a social and fiscal conservative, is seen by Obama's top election fundraisers, supporters and senior Democrats close to the campaign as easier to beat than the more moderate Mitt Romney in the 2012 presidential election.
"I was praying Perry would get in the race," said a former White House aide closely linked to Obama's campaign.
While Obama's campaign headquarters in Chicago will not talk on the record about possible election rivals, fundraisers, senior activists and influential Chicagoans close to the president say Perry's more polarizing views make him a bigger target for the Democrat in a general election.
Perry has quickly leaped into second place in polls of Republicans since announcing his candidacy last weekend. But he caused a fuss with harsh criticism of Federal Reserve Chairman Ben Bernanke that was shunned even by some Republicans.
Romney, a former governor of Massachusetts, tops the Republican field in polls and in the fundraising race.
"I think the Romney campaign is very scared of Perry. But I think the Obama campaign would rather run against Perry than Romney," said John Avlon, a centrist columnist for Newsweek.
Obama's approval rating has dropped as the unemployment rate remains stuck above 9 percent and his re-election prospects are dimmer than they were just a few months ago.
But the harder a Republican candidate leans to the right the easier it will be for the Democratic president to beat him or her in a general election, several Obama campaigners said.
Romney moved on Wednesday to widen his appeal to conservatives by saying he was "in sync" with the Tea Party, comments that Obama campaign spokesman Ben LaBolt tweeted to supporters.
A spokeswoman for Obama's re-election campaign would not draw distinctions among Republican contenders to challenge the president, focusing instead on their similar positions.
"While the president is advocating for a plan that would create jobs immediately and foster sustainable jobs that will maintain America's competitiveness, the Republican candidates have uniformly embraced an economic plan that would end Medicare as we know it, erode Social Security, eliminate hundreds of thousands of jobs and erase the investments necessary for America to win the future," said Katie Hogan, Obama campaign spokeswoman.
Hot Topics
The European Central Bank (ECB) held a conference call late on Sunday ahead of the market opening, pledging the ECB will step in to buy eurozone bonds with efforts to forestall the euro zone's debt crisis from spreading.