Bachmann wins Iowa straw poll
Updated: 2011-08-14 07:26
(Agencies)
| | | | | | | | | | | |
| --- | --- | --- | --- | --- | --- | --- | --- | --- | --- | --- |
|   | | Comments() | | Print | | Mail | | Large Medium  Small | 分享按钮 | 0 |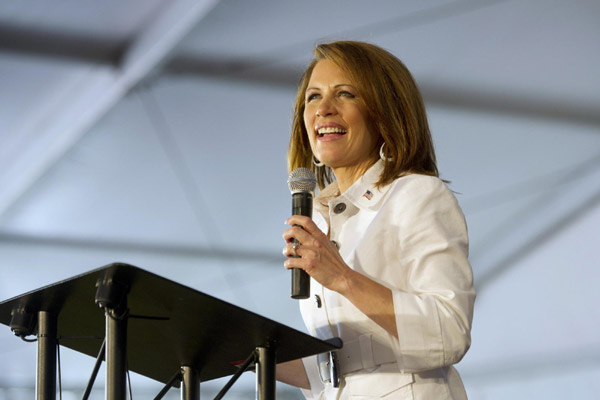 Republican US presidential candidate and Minnesota Congresswoman Michele Bachmann speaks during the Iowa straw poll in Ames, Iowa August 13, 2011. [Photo/Agencies] 
AMES, Iowa - Minnesota Rep. Michele Bachmann won a test vote of Iowans on Saturday, a show of strength five months before the state's caucuses kick off the GOP presidential nominating season.
The result is the first indication of what Iowans think of the field of Republicans competing for the chance to challenge President Barack Obama next fall. But it's hardly predictive of who will win the winter Iowa contest, much less the party nod or the White House.
Rather, Saturday's outcome suggests that Bachmann has a certain level of support and, perhaps even more important, the strongest get-out-the-vote operation and widest volunteer base in a state whose caucuses require those elements.
Texas Rep. Ron Paul finished second, ahead of former Minnesota Gov. Tim Pawlenty in third.
The results of this nonbinding vote, held on the Iowa State University campus, came just hours after Texas Gov. Rick Perry entered the race.
"I full well believe I'm going to win," Perry told South Carolina voters on a conference call before delivering his first speech as a candidate.
"It's time to get America working again," he declared in Charleston, S.C. "America is not broken. Washington, D.C. is broken."
Despite Perry's best efforts to overshadow the day, the epicenter of the presidential contest was in this Midwestern town, where Iowans cast ballots during a daylong political festival, a late-summer ritual held every four years.
In speeches throughout the day, candidates scouted for support by assailing Obama and offering themselves as the answer to an America plagued by high unemployment, rising debt and stock market swings.
"We know what America needs. But unfortunately Barack Obama has no clue. He's like a manure spreader in a windstorm," Pawlenty said, adding: "Mr. President, get the government off our backs." That elicited chants of his nickname: "T-Paw! T-Paw! T-Paw!"
Bachmann stressed her Iowa roots - she was born in Waterloo - as well as her faith, opposition to abortion rights and opposition to gay marriage. She earned cheers when she declared: "We are going to make Barack Obama a one-term president."
Bachmann, riding high since entering the race earlier this summer, had hoped that a strong finish would give her even more momentum just as Perry looks to infringe on her base of tea party and evangelical support. She invoked God and faith as she stressed what she called her conservative values, saying: "In Iowa, we are social conservatives and we will never be ashamed of being social conservatives."
Hot Topics
The European Central Bank (ECB) held a conference call late on Sunday ahead of the market opening, pledging the ECB will step in to buy eurozone bonds with efforts to forestall the euro zone's debt crisis from spreading.