WASHINGTON: The US Senate on Friday confirmed Utah Governor Jon Huntsman as ambassador to China, giving the Republican the task of nurturing a sometimes shaky relationship that President Barack Obama sees as crucial to solving many of the world's most difficult crises.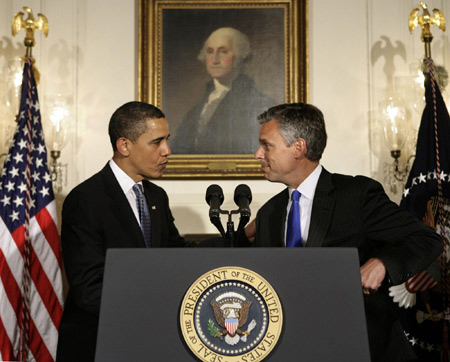 US President Barack Obama (L) greets Utah Governor Jon Huntsman as Obama announces his nomination for the new United States Ambassador to China at the Diplomatic Room of the White House in Washington May 16, 2009. [Agencies]
The Senate also confirmed John Roos, a lawyer and Obama campaign fundraiser, as US ambassador to Japan. Both were confirmed by unanimous consent.
Huntsman's confirmation sends to Beijing a fluent Chinese speaker with deep social, government and business ties to the region. It also allows Obama to bring into his administration a popular Republican leader seen as a potential challenger for the presidency in 2012.
Related readings:


 Huntsman gets nod to represent US in China


 US Senate panel Oks Huntsman as China ambassador


 Clinton: Huntsman soon to be ambassador to China


 Huntsman is missed as he leaves for China as ambassador


 Japan vote won't affect US ties much
Huntsman will travel to China at time of rising cooperation between the two huge economies. Late last month, the countries held two days of high-level talks in Washington. Officials vowed to work together to deal with global economic turmoil, climate change and nuclear standoffs with the Democratic People's Republic of Korea (DPRK) and Iran.
But it is also a relationship beset by tension and occasional hostility. China, the world's largest holder of US Treasury securities, worries about the safety of its investments. Beijing also cut off military talks with Washington after the Bush administration last year approved a huge weapons sale to Taiwan.
US lawmakers from both political parties have praised Huntsman as the right person for an important job. He is a former ambassador to Singapore, has led trade missions to China and has two adopted daughters, one from China and one from India. Huntsman lived in Taiwan as a young man, working as a Mormon missionary.
Obama's nominee for Japan, Roos, reportedly collected at least US$500,000 for Obama's presidential campaign. But he was relatively unknown outside fundraising and legal circles when Obama picked him as envoy to Tokyo, and his pick drew criticism from some in Japan.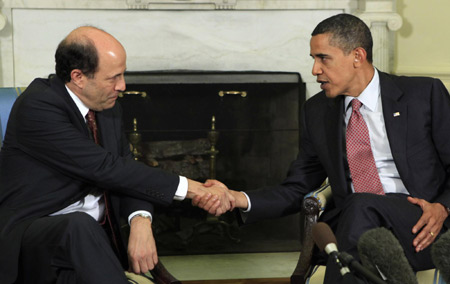 US President Barack Obama (R) meets with Ambassador-designate to Japan John Roos in the Oval Office at the White House in Washington, August 6, 2009. [Agencies]
Earlier, at his Senate confirmation hearing, prominent Americans, including former Senator Bill Bradley and Walter Mondale, former US vice president and ambassador to Japan, spoke of what they saw as Roos' qualifications, in both experience and temperament, to be ambassador.
Obama also gave Roos a strong vote of confidence Thursday, saying that he "will be able to advise me directly" on US-Japan issues.
"I placed great importance in the selection of who would represent the United States as ambassador to Japan," Obama told reporters, Roos sitting at his side. "And after careful consideration I made the determination that the person who I thought could best do this is somebody with superb judgment, somebody with an outstanding intellect, somebody who is a very close friend of mine and a close adviser."
Roos has said that the large California law firm he leads was "intimately involved" with several topics of interest to Japan, including software growth, the rise of the Internet, the emergence of biotechnology and clean technology and renewable energy.
The Senate also confirmed a host of other appointments, including Carlos Pascual to be ambassador to Mexico and Aaron Williams to be director of the Peace Corps.