While Gov. Jon Huntsman Jr. has been a friend to state education leaders, they are optimistic when it comes to working with Lt. Gov. Gary Herbert as he fills Huntsman's shoes.
During the past year's state budget-cut woes, Huntsman emphasized to legislators that cuts were not to harm classrooms or teachers.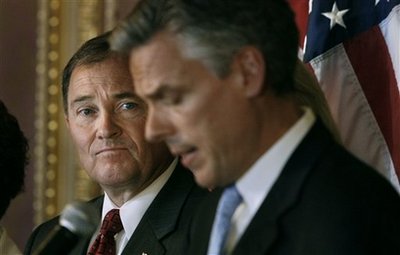 Lt. Gov. Gary R. Herbert listens as Utah Gov. Jon M. Huntsman Jr. officially announces his resignation at the Utah State Capitol, Monday May 18, 2009 in Salt Lake City. [Agencies]
Now that Huntsman is headed to China to serve as the US ambassador, there will be a new sheriff in town. State education leaders say they're not worried.
Outgoing state superintendent Patti Harrington said she will miss Huntsman but is excited for state education leaders to work with Herbert. Harrington announced her resignation in March, effective July 1.
"Gov. Huntsman has been a remarkable leader for education with a particular focus on the children of Utah," she said. "It has been a delight to serve and work with him."
Harrington worked with Herbert when she was a superintendent for Provo School District and he was a Utah County commissioner. "He had a wonderful reputation of being fair-minded and working through tough issues," she said. "I have great respect for him."
Larry Shumway, state deputy superintendent, said Huntsman has been "a tremendous friend" to public education.