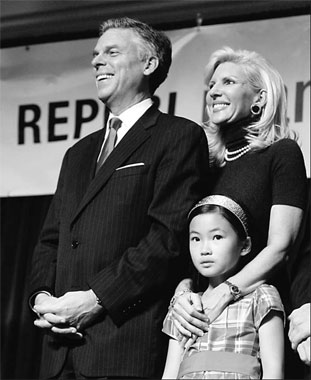 Utah Governor Jon Huntsman and his wife Mary Kaye share the spotlight with their adopted Chinese daughter, Gracie, who is one of the couple's seven children.
Utah Governor Jon Huntsman took another big step toward being officially named the US ambassador to China on Tuesday when the Senate Foreign Relations Committee approved his nomination.
His name will now go before the full Senate, which is expected finalize the appointment before adjourning for its summer recess on Friday.
The chairman of the Senate Foreign Relations Committee, Democratic Senator John Kerry, said he expected Huntsman would be officially named as ambassador to China this week.
Huntsman "is going to do a superb job. He's a very, very qualified and capable individual", Kerry said.
Senator Richard Lugar, the top Republican on the committee, also gave his full support to Huntsman, who he described as "an incredibly able man who will bring the skills he exemplified as governor to our fundamentally important relationship with China".
Forty-nine-year-old Huntsman, a Republican, was appointed by US President Obama, but that appointment needed support from the panel and the full Senate.
Related full coverage:


US Officials, China, Chinese
Related readings:


 US Senate panel Oks Huntsman as China ambassador


 Clinton: Huntsman soon to be ambassador to China


 Huntsman is missed as he leaves for China as ambassador


 Great expectation on Huntsman


 Huntsman and his Chinese daughter

Huntsman has said that he will resign as Utah governor if confirmed by the Senate, allowing Lt. Gov. Gary Herbert to take the reins in the state.
Huntsman was elected governor in 2004 and reelected in 2008.
He served as US ambassador to Singapore during the administration of President George Bush and as deputy US trade representative during President George W. Bush's tenure.
A fluent Chinese speaker who has spent many years in Taiwan, Huntsman is enthusiastic about Chinese culture.
He is a father of seven, one of which is an adopted 9-year-old Chinese girl.
Niu Xinchun, an expert on American studies at the China Institutes of Contemporary International Relations, said Huntsman has many advantages that will enable him to become a good ambassador.
"Jon Huntsman is probably the first ambassador to China who can speak fluent Chinese," he told China Daily yesterday.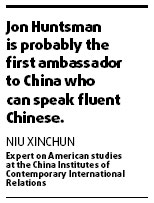 "He used to do business in clean energy and has been promoting it for a long time. And clean energy and climate change have become two hot topics between the two governments recently."
He said the Republican Party has tended to be critical of China, but having a Republican as ambassador might help that party's understanding of China.
Shen Dingli, executive dean of the Institute of International Studies at Shanghai's Fudan University, cautioned that Chinese people should guard against heaping too much expectation upon the new ambassador.
"The role of an ambassador is limited and he will not be able to guarantee that there will be no further disputes between the two countries," he said.
"I hope that Huntsman's knowledge of Chinese culture can help reduce the conflicts caused by misunderstanding between the countries."
As ambassador, he will face a series of challenges, including the course of military modernization, economic restructuring, trade disputes and environmental pollution.
The Senate Foreign Relations Committee also endorsed President Barack Obama's pick for US ambassador to Japan; campaign fundraiser and lawyer John Roos.
AFP contributed to the story