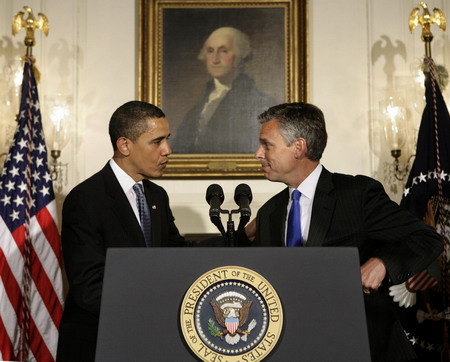 In this May 16, 2009 file photo, US President Barack Obama (L) greets Utah Governor Jon Huntsman as Obama announces his nomination for the new United States Ambassador to China at the Diplomatic Room of the White House in Washington. [Agencies]
WASHINGTON: The US Senate Foreign Relations Committee on Tuesday approved Utah Governor Jon Huntsman's nomination as ambassador to China.
Related readings:


US Officials, China, Chinese
Related readings:


 Huntsman is missed as he leaves for China as ambassador


 Clinton: Huntsman soon to be ambassador to China


 Great expectation on Huntsman


 Huntsman: US-China relationship most important


 Huntsman: I agonized over ambassador to China job
The Committee also endorsed President Barack Obama's pick of campaign fund-raiser and lawyer John Roos as US ambassador to Japan.
The endorsement by the Committee paved the way for a vote by the full Senate, the date of which remains unclear.
Huntsman, 49, was appointed by President Obama as new US ambassador to China in May. He is a Republican who was elected governor of Utah in 2004 and reelected in 2008. He served as US ambassador to Singapore during the administration of President George Bush and as deputy US trade representative during the administration of President George W. Bush.
Huntsman attended the University of Utah and received a bachelor's degree in business from the Wharton School of the University of Pennsylvania after transferring to that school. He can speak fluent Mandarin Chinese.