Lee, a Republic-of-Korea-born US citizen, is the mother of a 4-year-old. Ling, a California native, is the younger sister of Lisa Ling, a correspondent for CNN as well as "The Oprah Winfrey Show" and "National Geographic Explorer."
They were arrested as they reported about the trafficking of women. It's unclear if they strayed into DPRK or were grabbed by aggressive border guards who crossed into China but recent statements suggested they admitted to deliberately crossing into the country.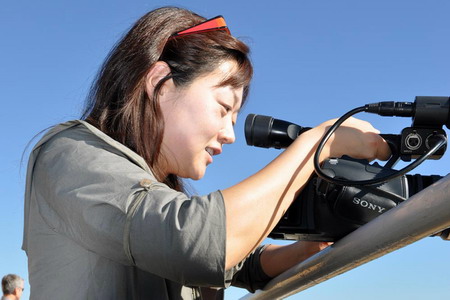 Journalist Euna Lee uses a videocamera in this undated photograph released by www.lauraandeuna.com. [Agencies]
The Committee to Protect Journalists also welcomed their release.
DPRK national media said Clinton and Kim held wide-ranging talks, adding that Clinton "courteously" conveyed a verbal message from Obama.
Related readings:


 Clinton, Kim meet during surprise trip


 Journalists leave Pyongyang aboard Clinton's plane


 Clinton meets two US journalists detained in DPRK


 W.House: Clinton visit to DPRK "solely private"


 Bill Clinton arrives in Pyongyang for jailed reporters


 Clinton off to Pyongyang for journalists
In Washington, White House spokesman Robert Gibbs denied Clinton went with a message from Obama. "That's not true," he told reporters.
"While this solely private mission to secure the release of two Americans is on the ground, we will have no comment" until the mission is complete, Gibbs said in a statement. "We do not want to jeopardize the success of former President Clinton's mission."
Clinton was accompanied by John Podesta, his one-time White House chief of staff, who also is an informal adviser to Obama.
Clinton was accorded honors typically reserved for heads of state. Senior officials, led by Vice Foreign Minister Kim Kye Gwan, who also serves as the regime's chief nuclear negotiator, met his private unmarked plane as it arrived Tuesday morning.
Video from the APTN television news agency showed Clinton exchanging warm handshakes with officials and accepting a bouquet of flowers from a schoolgirl.
Kim later hosted a banquet for Clinton at the state guesthouse, Radio Pyongyang and the Korean Central Broadcasting Station reported. The VIPs and Kim posed for a group shot in front of the same garish mural depicting a stormy seaside landscape that Clinton's secretary of state, Madeleine Albright, posed for during her historic visit to Pyongyang in 2000.
But not long ago, DPRK's Foreign Ministry had harsh words for his wife, describing her as "a funny lady" who sometimes "looks like a primary schoolgirl and sometimes a pensioner going shopping."