SEOUL: His mission accomplished, former President Bill Clinton left Pyongyang early Wednesday accompanied by American journalists Euna Lee and Laura Ling after Kim Jong Il, top leader of the Democratic People's Republic of Korea (DPRK), pardoned the women from their 12-year prison sentences.
Clinton and the two Californians were flying back to the US, his spokesman Matt McKenna said, less than 24 hours after the former US leader landed in the DPRK capital on a private, humanitarian trip to secure their release.
Clinton has safely left Pyongyang with Laura Ling and Euna Lee and all three were en route to Los Angeles, where the journalists will be reunited with their families, he said.
The White House had no comment.
DPRK leader Kim Jong-il (L) talks as former US President Bill Clinton (R) looks on in Pyongyang in this photo released by DPRK official news agency KCNA August 4, 2009. [Agencies]
Their departure was a jubilant conclusion to a more than four-month ordeal for the women arrested near the DPRK-China border in March and sentenced in June to 12 years of hard labor for illegal entry and engaging in "hostile acts."
Related readings:


 Clinton, Kim meet during surprise trip


 Journalists leave Pyongyang aboard Clinton's plane


 Clinton meets two US journalists detained in DPRK


 W.House: Clinton visit to DPRK "solely private"


 Bill Clinton arrives in Pyongyang for jailed reporters


 Clinton off to Pyongyang for journalists
Clinton's landmark trip to Pyongyang also resulted in rare talks with reclusive Kim Jong Il that national media described as "wide-ranging" and "exhaustive." The meeting was Kim's first with a prominent Western figure since reportedly suffering a stroke nearly a year ago.
DPRK media characterized the women's release as proof of "humanitarian and peace-loving policy." State media said Clinton apologized on behalf of the women and relayed President Barack Obama's gratitude. The report said the visit would "contribute to deepening the understanding" between the DPRK and the United States.
While the White House emphasized the private nature of Clinton's trip, his landmark visit to Pyongyang to free the Americans was a coup that came at a time of heightened tensions over Pyongyang's nuclear program.
The meeting also appeared aimed at dispelling persistent questions about the health of the DPRK doyen leader, who was said to be suffering from chronic diabetes and heart disease before the reported stroke.
Kim smiled broadly for a photo standing next to a towering Clinton. He was markedly thinner than a year ago, with his graying hair cropped short. The once-pudgy 67-year-old, who for decades had a noticeable pot belly, wore a khaki jumpsuit and appeared frail and diminutive in a group shot seated next to a robust Clinton.
The DPRK accused Ling, 32, and Lee, 36, both of former Vice President Al Gore's Current TV media venture, of sneaking into the country illegally.
US Secretary of State Hillary Rodham Clinton urged Pyongyang last month to grant them amnesty, saying they were remorseful and their families were anguished by their detention.
The journalists' release followed weeks of quiet negotiations between the State Department and the DPRK mission to the United Nations, said Daniel Sneider, associate director of research at Stanford University's Shorenstein Asia-Pacific Research Center.
Clinton "didn't go to negotiate this, he went to reap the fruits of the negotiation," Sneider said.
Pardoning Ling and Lee and having Clinton serving as their emissary served both Pyongyang's need to continue maintaining that the two women had committed a crime and the Obama administration's desire not to expend diplomatic capital winning their freedom, Sneider said.
"There was a desire by the administration to resolve this quietly and from the very beginning they didn't allow it to become a huge public issue," he said.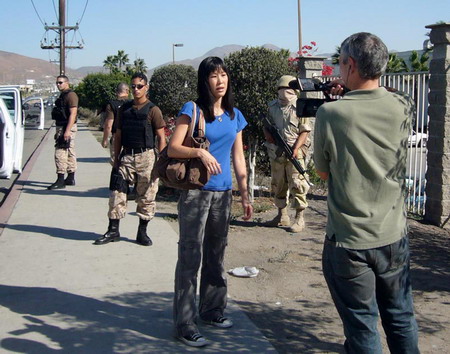 Journalist Laura Ling (C) is pictured in this undated photograph released by www.lauraandeuna.com. [Agencies] 
The families of Ling and Lee said they were "overjoyed" by the pardon.
"We are so grateful to our government: President Obama, Secretary Clinton and the US State Department for their dedication to and hard work on behalf of American citizens," the families said in a statement. "We especially want to thank President Bill Clinton for taking on such an arduous mission and Vice President Al Gore for his tireless efforts to bring Laura and Euna home.
"We are counting the seconds to hold Laura and Euna in our arms," the statement said.