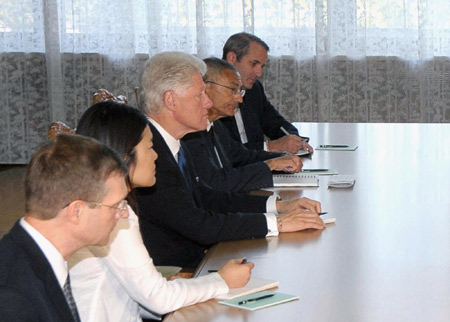 Former US president Bill Clinton (C) participates in talks with DPRK's top leader Kim Jong-il in Pyongyang in this photo released by DPRK's official news agency KCNA August 4, 2009. [Agencies]
WASHINGTON: Former US president Bill Clinton on Tuesday met with two American woman journalists detained in the Democratic People's Republic of Korea (DPRK) hours after his arrival in Pyongyang, ABC News reported.
Clinton's meeting with Laura Ling and Euna Lee, both sentenced by the DPRK's highest court in June to 12 years in a labor camp for an illegal border crossing, is "very emotional," ABC News quoted an unidentified government source as saying.
Related readings:


 Clinton meets Kim Jong-il: Yonhap


 W.House: Clinton visit to DPRK "solely private"


 Bill Clinton arrives in Pyongyang for jailed reporters


 Clinton off to Pyongyang for journalists
Clinton, who arrived in Pyongyang early Tuesday, also met with DPRK top leader Kim Jong-il.
The White House declined to make comment on Clinton's one-day visit to Pyongyang, saying it is a "solely private" mission to secure the release of two American journalists
Pyongyang had no diplomatic relations with Washington so far. Clinton is the highest-profile American to visit the DPRK after his own secretary of state Madeleine Albright met with DPRK top leader Kim Jong-il in 2000.
The two American journalists, who worked for the San Francisco- based Current TV co-founded by former US vice president Al Gore, were captured on March 17 for allegedly crossing the DPRK border from China and committing "hostile actions" against the country.