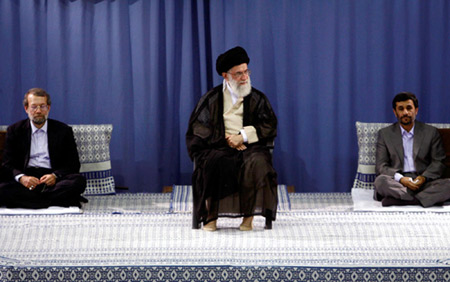 Iranian President Mahmoud Ahmadinejad (R) and Parliament Speaker Ali Larijani (L) listen to a speech by Supreme Leader Ayatollah Ali Khamenei during a ceremony for Ahmadinejad's confirmation as Iran's President in Tehran August 3, 2009. [Agencies]
Khamenei also took an apparent jab Monday at opposition leader Mousavi and others who have claimed the election was marred by abuses.
"This election was a test. People passed the test ... and some of the elites failed. This election made some (figures) the losers," state TV quoted Khamenei as saying.
Related readings:


 Khamenei endorses Ahmadinejad as Iran president: TV


 Iran's Ahmadinejad only sacks intelligence minister: report


 New Iran VP choice rapped by conservatives


 Ahmadinejad: No rift with supreme leader


 Iran's supreme leader denounces West for meddling
But even conservatives have turned against the leadership over the elections. On Sunday, Ahmadinejad's main conservative election challenger, Mohsen Rezaei, demanded that authorities hold trials for those accusing of killing protesters.
More than 100 people, including many prominent reformist political figures, are facing trial for allegedly supporting the postelection unrest.
There was no word from Iranian authorities on three Americans detained after reportedly wandering across the border with Iraq last week during a hike in the Iraqi Kurdish region.
The Swiss Embassy in Tehran is trying to learn more about the Americans' fate through its contacts with the Iranian Foreign Ministry, spokeswoman Nadine Olivieri said Sunday. Switzerland represents US interests in Iran in the absence of American-Iranian diplomatic relations.
The three Americans were detained by Iranian border guards, the Kurdish regional government said. One American who was traveling with the group, Shon Meckfessel, sat out the hike because he had a cold, said his grandmother, Irene Meckfessel, from her home in Carmichael, California.
One of the missing Americans has been identified by Kurdish authorities as Joshua Fattal. His mother, Laura Fattal of Elkins Park, Pennsylvania, issued a brief statement Sunday saying her only concern was for the welfare of her son and his two traveling companions.