TEHRAN: Iranian President Mahmoud Ahmadinejad on Friday said that there were no discord between him and Supreme Leader Ayatollah Ali Khamenei, the official IRNA news agency reported.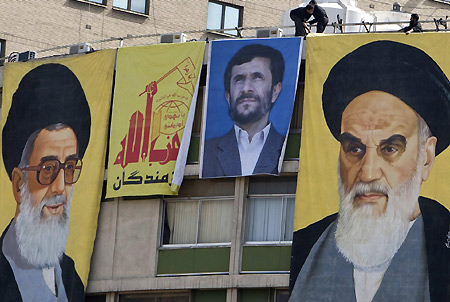 Men adjust pictures of Iranian President Mahmoud Ahmadinejad (C), Supreme Leader Ayatollah Ali Khamenei (L) and Iran's late leader Ayatollah Ruhollah Khomeini in central Tehran May 28, 2009. [Agencies]
"The enemies' dream of seeing differences between the supreme leader and the president of Iran would never be fulfilled," Ahmadinejad was quoted as saying at a meeting of academics in the northeastern city of Mashhad.
He said his relationship with Khamenei was that of "a son with his father based on beliefs," adding that in the past few days a few people have been trying to make the false impression of differences between them.
Related readings:


 Iran's supreme leader denounces West for meddling


 Ahmadinejad's vice president choice rejected


 Iran supreme leader backs poll result


 Iran not to give in to pressures: Supreme Leader


 Iran's supreme leader calls for calm
"The evil souls who were trying to make such an impression in the society would inevitably meet failure and carry such a dream with themselves to graves," Ahmadinejad said.
Iran's many conservatives have lashed out at Ahmadinejad for not immediately following Khamenei's order to cancel his recent appointment of controversial Esfandiar Rahim Mashaie as first vice president.
On July 16, Ahmadinejad appointed Mashaie, who had been a vice president and head of the Cultural Heritage, Handicrafts and Tourism Organization, as the new first vice president.
The appointment prompted widespread condemnation from conservative circles, who objected to Mashaie's reported statement last year that Iran was a "friend of the Israeli people."
Khamenei reportedly sent a letter to Ahmadinejad on July 18, saying "it is necessary for this appointment to be declared null and void."
However, Ahmadinejad stalled for several days and finally Mashaie resigned on July 24, Iran's media reported.
The next day, Ahmadinejad appointed Mashaie as his adviser and head of the Presidential Office.