TEHRAN: Iran's Supreme Leader Ayatollah Ali Khamenei on Monday denounced some Western leaders' "explicit meddling" in Iran during the country's post-election unrest, the English-language satellite channel Press TV reported.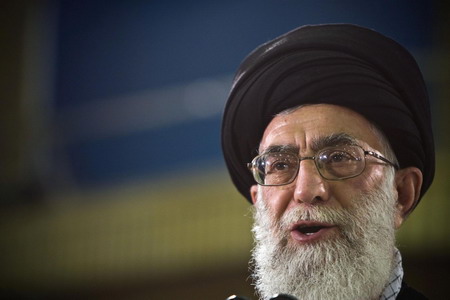 Iran's Supreme Leader Ayatollah Ali Khamenei speaks live on television after casting his ballot in the Iranian presidential election in Tehran in this June 12, 2009 file photo. [Agencies]
Khamenei warned that the country's enemies would be given "a crushing response" to any attempt to interfere in Iran's domestic affairs, according to Press TV's report.
Related readings:


 President: Iran vote an anti-imperialist victory


 Iran declares election fight over, vote valid


 Iran Guardian Council approves presidential results


 Iran leader criticizes Western 'meddling'


 Iran not to give in to pressures: Supreme Leader
"There have been foreign-instigated plots to spread divisions and discords in the society by encouraging riots," Khamenei was quoted as saying.
The Iranian supreme leader also called on all political factions and groups to be alert and not to mistake enemies for friends, adding that the Iranian nation will settle their differences and unify against the country's enemies.
Protests gripped Tehran and other Iran cities after June's presidential elections, amid claims that the vote had been rigged in favor of the incumbent President Mahmoud Ahmadinejad. Iran's state media said 20 people had been killed in related clashes and riots.
Iran has repeatedly accused foreign powers -- especially Britain and the United States -- of stoking the unrest that swept the country after June 12 election.