TEHRAN: Iran's supreme leader formally endorsed Mahmoud Ahmadinejad for a second term as president Monday in a ceremony that sought to portray unity among the country's leadership but was snubbed by prominent critics of the disputed election.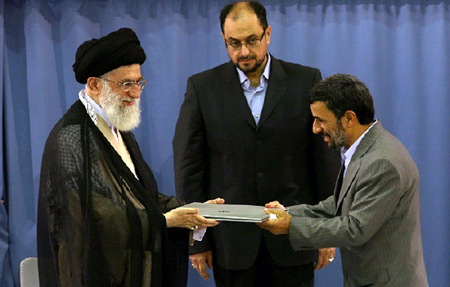 Iranian President Mahmoud Ahmadinejad (R) receives a certificate declaring him as President of the Islamic Republic of Iran from Supreme Leader Ayatollah Ali Khamenei in Tehran August 3, 2009. [Agencies]
After Ayatollah Ali Khamenei gave his official seal of approval, he allowed Ahmadinejad to kiss his robe on his shoulder - a noticeably more restrained gesture than four years ago when Ahmadinejad kissed the leader's hand and cheeks in a sign of closeness and loyalty.
Related readings:


 Khamenei endorses Ahmadinejad as Iran president: TV


 Iran's Ahmadinejad only sacks intelligence minister: report


 New Iran VP choice rapped by conservatives


 Ahmadinejad: No rift with supreme leader


 Iran's supreme leader denounces West for meddling
The meeting cleared the way for Ahmadinejad to take the oath of office Wednesday in parliament, where many pro-reform lawmakers have echoed the claims of fraud in the June 12 election.
The ceremony with Khamenei showed vividly the deep political divides confronting Ahmadinejad and his backers among the ruling clerics. The event was boycotted by two former presidents - Akbar Hashemi Rafsanjani and Mohammad Khatami - as well as defeated pro-reform candidates Mir Hossein Mousavi and Mahdi Karroubi, state media reported. Also, no one from the family of Ayatollah Ruhollah Khomeini, leader of the 1979 Islamic revolution, attended.
Iran's main state TV channels did not offer live coverage of the ceremony in an apparent effort by the country's Islamic rulers to avoid emphasizing the boycotts to domestic audiences. But Iran's state-funded channels in Arabic and English broadcast extensive images of Khamenei and Ahmadinejad - possibly seeking to display a sense of high-level solidarity on the international stage.
Khamenei described the June 12 election as a "golden page" in Iran's political history and said it was a "vote for the fight against arrogance and brave resistance to the international domination-seekers" - a clear reference to the United States and its allies - according to comments quoted by state TV.
At the same ceremony four years ago, Ahmadinejad appeared to get a very warm reception from Khamenei. He kissed the supreme leader's hand, then Khamenei drew him close and kissed him on both cheeks with a very benevolent smile.
Monday's exchange was more tentative. Ahmadinejad appeared to approach Khamenei to kiss his hand, but the leader stopped him. The two exchanged words, Ahmadinejad smiled, and then Khamenei allowed him to kiss his robe on his shoulder.
The official state news agency IRNA said Ahmadinejad had a cold, suggesting this was why he didn't kiss Khamenei's hand or cheek and instead kissed his clerical robe.
However, it appeared Khamenei is fully mindful of the public perceptions over every gesture toward Ahmadinejad in the supercharged climate after the election.