"Once the world economy stabilizes and the worst of the (financial) crisis is behind us, these simmering tensions will come bubbling back to the surface," he added.
Related readings:


 AP source: Obama to name Utah gov envoy to China


 Obama says US can't keep borrowing from China


 Don't preach to us, China warns Obama!

 US lawmakers unveil bills to foster ties with China


 US' China policy ought to help the region
The US trade deficit with China hit a record $266.3 billion in 2008, but both countries are feeling the pinch now because the global recession has clobbered world trade. 

Huntsman served as deputy US trade representative in the Bush administration from 2001-2004, and was US ambassador to Singapore from 1992 to 1994 when Bush's father was president.

China is among the largest buyers of US government debt, with $767.9 billion as of March, according to Treasury Department data released on Friday.

Washington is keen to maintain a strong relationship -- particularly now as the $787 billion stimulus package and $700 billion financial bailout fund have strained public finances.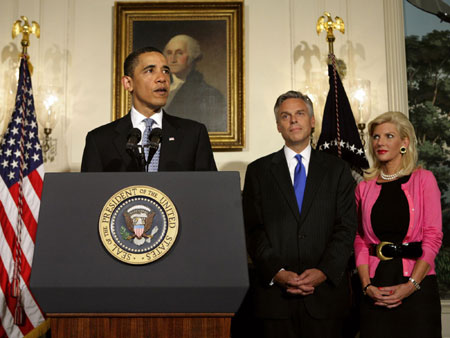 US President Barack Obama announces his nomination of Utah Governor Jon Huntsman (C) to be a new United States Ambassador to China at the Diplomatic Room of the White House in Washington May 16, 2009. Jon Huntsman stands with his wife Mary Kaye (R). [Agencies]
If China pulled back on its purchases of US bonds, it could drive up interest rates, making it more expensive for the US government to finance its growing debt pile and for consumers and companies to borrow money.
Obama's choice of a Republican for such a key post could signal that the Democratic president has not abandoned his pledge to seek bipartisan cooperation. Since taking office in January, he has mostly relied on a Democratic majority in Congress to push through his legislation.
The ambassador post requires Senate confirmation.