SALT LAKE CITY – President Barack Obama intends to name Utah's Republican Gov. Jon Huntsman, seen by many as a potential GOP presidential contender, to be ambassador to China, a source close to the governor said Friday night.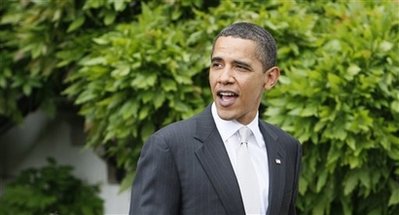 President Barack Obama greets audience members on the South Lawn of the White House in Washington, Friday, May 15, 2009, after he honored the 2008 World Series baseball champion Philadelphia Phillies. [Agencies] 
The popular moderate governor has accepted the appointment, said the source, who would speak only on condition of anonymity ahead of a White House announcement expected Saturday. Repeated messages to Huntsman's spokeswoman and other staffers went unreturned Friday. The White House would not confirm the nomination.
Related readings:


 Obama says US can't keep borrowing from China


 Hu, Obama talk on phone about flu epidemic


 Obama revives terror tribunals, dismaying liberals


 Obama names NY health chief to head CDC


 Obama seeks health reform with new industry support
Huntsman, a two-term governor, is fluent in Mandarin Chinese. One of his seven children, Gracie Mei, was adopted from China in 1999.
He made headlines recently for encouraging the Republican Party to swing in a more moderate direction if it wanted to bounce back from the 2008 elections, angering some conservatives.
Obama's 2008 campaign manager, David Plouffe, said Huntsman is a Republican who "seems to understand the party has to adjust - not stubbornly believe that everything is OK and it is the country that has to change."
Huntsman's positions on the environment and other issues have led some to consider him a potential contender for president in 2012.
He signed an initiative that would set a regional cap-and-trade effort to reduce global warming. In a 2006 speech at Shanghai Normal University, Huntsman spoke of the need for China and the US to work together on environmental issues.
"The United States and China must be good examples and stewards of the Earth. We must match economic progress with environmental stewardship. The effects of industrialization are felt worldwide," Huntsman said then.
Throughout his tenure as governor, Huntsman's background as a diplomat has been evident. He preferred to win over opponents in private meetings rather than using his bully pulpit to give rousing speeches.
One of his most significant achievements was loosening the state's restrictive liquor laws over the objections of many in heavily Mormon Utah in an effort to make the state more appealing for visitors. It was a feat many here didn't think would be possible in Huntsman's lifetime.
However, Huntsman has drawn the most attention for stating he favors civil unions for gay couples even though he backed a state constitutional amendment passed in 2004 that prohibited same-sex marriage.
Huntsman's comments on civil unions drew the ire of conservatives in his own state and elsewhere.
Officials in Michigan last month canceled a GOP county fundraiser where Huntsman was to speak; they said he had abandoned important party principles.