US President Barack Obama on Saturday named the Republican governor of Utah Jon Huntsman to be the next US ambassador to China.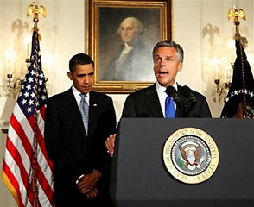 Utah Governor Jon Huntsman (R) gives his remarks accepting the nomination by President Barack Obama as the US ambassador to China in the Diplomatic Room at the White House, Saturday, May 16, 2009, in Washington. [Agencies]
Jon Huntsman Jr., 49, a Mandarin-speaking former US trade official with deep personal and family business ties to China, takes on a delicate diplomatic role with a vital trading partner and one of the biggest sources of financing for the growing pile of US government debt.

"This ambassadorship is as important as any in the world because the United States will best be able to deal effectively with the global challenges of the 21st century by working in concert with China," Obama said at a White House ceremony with Huntsman at his side. 

Huntsman is the son of billionaire philanthropist Jon Huntsman, and his family founded chemical company Huntsman Corp, which has operations in China, including a factory in Shanghai. One of Huntsman's seven children, daughter Gracie Mei, was adopted from China.

Huntsman quoted a Chinese aphorism as he accepted the nomination on Saturday, which he translated as, "Together we work, together we progress."

"This more than anything else, I think, captures the spirit of our journey going forward," he said.

In a 2006 speech at Shanghai Normal University, Huntsman urged bilateral cooperation to foster peace and economic prosperity on both sides of the Pacific but also had some stern words about how environmental damage in Asia hurt wildlife in his home state of Utah.

A senior administration official said Huntsman was seen as a problem-solver rather than a dogmatist, and called him a "'no drama Obama' type" who was fluent in the language and culture and well versed in critical issues affecting the region.

Obama called Huntsman to offer him the post on May 5, and he accepted. The two met in the Oval Office one week ago, while the governor was in Washington for the annual White House Correspondents dinner.

Trade Frictions

Eswar Prasad, a senior fellow at the Brookings Institute and previously head of the China division at the International Monetary Fund, said Huntsman's diplomatic skills "will be tested to the limit as there are many potential sources of conflict between China and the US, especially on trade, currency and environmental policies."