WASHINGTON -- Beware, John McCain. The money comes with a price. Sure, President Bush will raise millions of dollars for your Republican presidential campaign and GOP candidates. But he'll also give you the aura of a presidency tarnished by painful gasoline prices, a sagging economy, the threat of recession, a blemished US reputation around the world, turbulence in the Middle East and many more problems.
There's also the unpopular war in Iraq -- although you already are closely associated with that.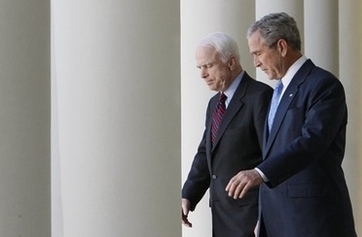 President Bush and Republican nominee-in-waiting, Sen. John McCain, R-Ariz., walk together to the Rose Garden of the White House in Washington as Bush endorsed McCain for president, Wednesday, March 5, 2008. [Agencies]
How often to rub shoulders with an incumbent president -- or whether to appear with him at all -- is a delicate matter for presidential wannabes.
Al Gore's decision during his 2000 campaign against Bush not to embrace President Clinton was probably a gift to the GOP. Many people think that despite Clinton's personal troubles, Gore should have been standing shoulder to shoulder with Clinton, who had high approval ratings as he left office.
"McCain's got to make it very clear that this is not a third Bush term, but a John McCain presidency," said Republican pollster David Winston.
"As long as he can make that clear separation, then having a president of the United States on the road, helping with fundraising, going around and talking to people is a very different thing," Winston said.
Bush and McCain exhibited solidarity in the Rose Garden on Wednesday when the president embraced the Arizona senator as the party's next standard-bearer. But neither offered anything definitive about what Bush's role would be in McCain's general election campaign.
Bush, whose approval ratings skidded to 30 percent in February, stresses that the election had nothing to do with him.
"If he (McCain) wants me to show up, I will. If he wants me to say `You know, I'm not for him,' I will," Bush said. "Whatever he wants me to do. I want him to win. ... If he wants my pretty face standing by his side at one of these rallies, I'll be glad to show up."
McCain skirted a question about whether Bush would be an asset or albatross on the campaign trail. McCain says he hopes Bush will campaign for him, although he knows the president has a busy schedule.
Bush plans to campaign in states where Republicans have tight congressional races but that offer little strategic value to McCain, freeing up the Republican presidential nominee to spend time and money where he needs votes the most.
While Bush and McCain dined privately at the White House, the president's top political team and McCain's chief advisers were having their own lunchtime strategy session. The McCain team thanked the White House for not offering running commentary during the primary process. They plan to coordinate the two men's schedules through regular phone calls, although a formal process for meshing Bush's calendar with McCain's has not been set yet.
"We'll figure it out," said Ed Gillespie, the president's counselor. "The fact is that even when you've had vice presidents who are running to succeed sitting presidents, they had to feel their way at first — even after working in the same building. But we're all friends, and there is no higher priority for the president than making sure John McCain is elected president."
Raising money will clearly be priority No. 1. Even though Bush's approval ratings are low, he remains popular with the party faithful who still pay to get in a room with him. In 2007, Bush raised $66.3 million for the Republican Party and its candidates.
Bitter rivals in the 2000 presidential primaries, the two have forged an uneasy relationship during Bush's administration and have clashed on issues such as campaign finance, global warming and defining torture. With all the smiles and back-patting at the White House, it sure looked as if McCain and Bush have long put the bitterness of 2000 aside.
Now, it's about how McCain can distinguish himself from Bush -- and do it fast.
An hour after Bush and McCain appeared together at the White House, the Democratic National Committee was firing off press releases about how a McCain presidency would look like a third Bush term when it comes to the economy, health care, Social Security and Iraq.
White House insiders say the president's low approval rating is a moot point because it's McCain who must win over voters. McCain's name recognition will be helpful. And they contend that Democrats will be wasting millions of dollars if they insist on saying McCain would be a Bush redux.
McCain's Democratic rivals each claim to carry a mantle of change, and even Bush admitted he used that line when he ran against Gore in 2000. "Every candidate has got to say `change,'" Bush said.
Maybe Bush didn't do McCain any favors, however, when he followed up by saying that McCain is not going to change U.S. policy when it comes to battling terrorism. "He's not going to change when it comes to taking on the enemy," Bush said.