Caracas, Venezuela - Venezuelan President Hugo Chavez on Wednesday called a Colombian raid that killed two dozen rebels in Ecuador a "war crime," and joined Ecuador's president in demanding international condemnation of the cross-border attack.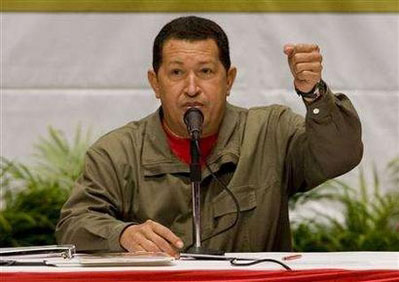 Venezuela's President Hugo Chavez speaks to supporters during an event in Caracas March 5, 2008. [Agencies]
In a bid to ease the diplomatic crisis, the Organization of American States approved a resolution earlier Wednesday that called the Colombian military raid a violation of Ecuadorean sovereignty. But President Rafael Correa said the resolution was not enough.
"The OAS resolution pleases us. We are pleased, but not satisfied," Correa said, standing beside Chavez in Caracas. "This isn't going to cool down until the aggressor is condemned."
The watered-down resolution approved by the OAS in Washington declared the attack a violation of Ecuador's sovereignty and called for the OAS Secretary-General Jose Miguel Insulza to lead a delegation to both countries to ease tensions, but stopped short of explicitly condemning the assault.
Related readings:


 Colombia to take Chavez to int'l courts


 Chavez warns of war with Colombia


 Venezuela decrees state of general alert


 Venezuela, Ecuador deploy troops in Colombia dispute

 Ecuador President: Colombian gov't wants war, not peace
The United States was the only OAS nation offering Colombia unqualified support.
"We are using all the peaceful and diplomatic channels available for the international community to condemn the aggressor," Ecuador's president said.
"We've cut relations with a government that can't be believed, a treacherous government," Correa said. "We can't have relations ... with that sort of government."
Colombia accused both Chavez and Correa of having deepening ties with the leftist rebels, and said that was shown by documents found on a laptop seized at the bombed rebel camp.
President Alvaro Uribe, whose decision to attack the rebels reflected his frustration over the ability of guerrillas to find refuge across Colombia's borders in Venezuela and Ecuador, said he would not mobilize troops or allow his nation to be drawn into war with his neighbors.
Chavez and Correa made a series of accusations against Colombia's US-allied government. Chavez called Colombia a "genocidal government," accused Uribe of backing illegal right-wing paramilitary groups, questioned his sanity and blasted Saturday's cross-border raid.
"We demand condemnation of the Colombian government for this aberrant act," Chavez said.
Chavez laughed as he dismissed accusations by Uribe's government that Venezuela had sent financial support to Colombia's rebels.
And as for some US$6 billion in annual trade between Venezuela and Colombia, Chavez predicted "that's coming down."
"We aren't interested in Colombian investments here," Chavez said. "Of the Colombian businesses that are here in Venezuela, we could nationalize some."
He said Venezuela will search for other countries like Ecuador, Brazil and Argentina to take the place of products imported from Colombia. Noting that Colombia traditional supplies food to Venezuela, he said that now "we can't depend (on Colombia) not even for a grain of rice."