WASHINGTON -- US President George W. Bush endorsed John McCain on Wednesday as the Republican presidential nominee after he garnered more than 1,191 delegates required for a nominee the previous day.
"He's a president -- and he's going to be the president who will bring determination to defeat an enemy and a heart big enough to love those who hurt," Bush said at a press conference in the White House with McCain standing beside him.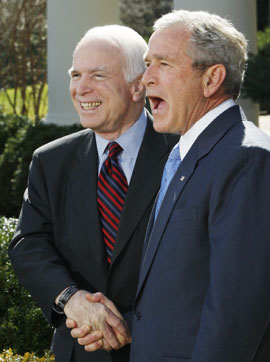 US President George W. Bush (R) and presumptive Republican presidential nominee, Sen. John McCain (R-AZ), shake hands in the White House Rose Garden in Washington, March 5, 2008. Bush offered McCain his formal endorsement on Wednesday. [Agencies]
He described the 71-year-old Arizona Senator as "somebody who can handle the tough decisions, and somebody who won't flinch in the face of danger."
The president made the announcement one day after McCain swept four more primaries and secured his candidacy by accumulating more than 1,191 delegates that are needed to win the nomination.
McCain expressed his gratitude to Bush, "a man who I have great admiration, respect and affection," and said he looked forward to campaigning with the president at his side, especially in the states like Texas, Bush's homestate.
According to the White House, Bush has also sent his congratulations through phone calls to defeated Republican candidates Mike Huckabee, Mitt Romney, Fred Thompson and Rudy Giuliani.
Bush's endorsement was considered vital to McCain's efforts to win the Republican party's hard-core conservatives, who still hesitate to throw their support to the candidate for his moderate stances on the issues like abortion and immigration.
Despite a declining approval rate, the two-term president still enjoyed about 65 percent of support among Republicans.
McCain has earlier picked up the endorsements by other members in the Bush's family, former President George H. W. Bush and former Florida governor Jeb Bush.
However, McCain was expected by political analysts to face a hard decision on Bush's role in his campaign. During the campaign, he has been trying to appeal for the voters by keeping distance from Bush administration's policies.
The president and the presumptive presidential candidate has a history of contention.
In 2000, the two was caught in a bitter presidential nomination race. McCain finally conceded after he was falsely charged with fathering an illegitimate black child and being mentally deranged, but Bush campaign denied being the source of the allegations.
As a senior Senator and Vietnam war veteran, McCain has been a strong critic of the Bush administration's war strategy in Iraq and torture scandals.
On McCain's past disagreements with Bush, White House spokeswoman Dana Perino said, "Elections are about change and going forward, and one of the most attractive things about Senator McCain to the Republican Party is that he has been his own person. "
However, McCain has been attacked by Democrats for his new tie with Bush.
"A vote for John McCain is a vote for a third Bush term," said Democratic National Committee spokesman Luis Miranda.