MADRID -- Spanish Prime Minister Jose Luis Rodriguez Zapatero claimed victory in Sunday's parliamentary elections.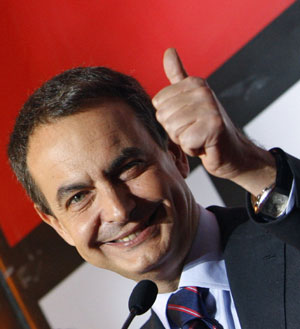 Spain's Prime Minister Jose Luis Rodriguez Zapatero gestures to supporters outside the Socialists party headquarters in Madrid, March 9, 2008. Spain's governing Socialist Party claimed victory in Sunday's parliamentary elections. [Agencies]
Zapatero addressed joyful supporters in Madrid while the rival Popular Party (PP) had conceded defeat.
PP spokesman Pio Garcia Ecudero admitted his party's loss and congratulated Zapatero's Spanish Socialist Workers' Party (PSOE).
With 93.5 percent of the ballots counted by late Sunday night, the PSOE won 43.77 percent of the vote against 40.12 percent for the PP.
With this standing, the PSOE would get 168 seats in the 350-strong lower house of parliament. The PP would get 154 seats.
The PSOE would still fall short of an absolute majority in the house and will need to form a coalition government with regional parties.
The PSOE and the PP won 164 and 148 seats respectively in 2004 elections.
Zapatero won surprisingly in 2004 elections, which were held three days after terrorist bombings of Madrid commuter trains killed 191 people.
Zapatero's victory in 2004 was widely seen as voters' punishment of the then PP government's insistence that the bombings were carried out by the Basque separatist group ETA despite growing evidence that they were authored by Islamic terrorists linked to al-Qaida.
Sunday's victory for Zapatero seems to be vindication of his policies in the past four years.
He legalized gay marriage and passed legislation to make divorce easier, moves that angered the PP. The Socialist government also devolved power to semi-autonomous regions.