SYDNEY -- Japanese harpoonists killed five whales in one day after protesters who had halted the hunt in Antarctic waters were forced to return to port to refuel, an Australian report said Friday.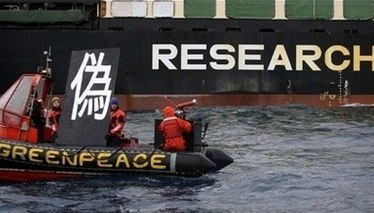 Greenpeace members hold the Kanji symbol 'nise', meaning "FAKE" - next to the word "RESEARCH" written on the hull of the Japanese whaling fleet's factory ship Nisshin Maru, in the Southern Ocean, January 18 2008. [Agencies]
Foreign Minister Stephen Smith had raised the issue and voiced his "disappointment" during a face-to-face meeting with his counterpart in Tokyo late Thursday, his spokesman said.
The meeting came shortly after reports were received that the whalers were hunting again after low fuel forced Greenpeace and Sea Shepherd ships to abandon their protests.
Officers aboard the Australian customs vessel, the Oceanic Viking, witnessed the killing of the whales and took video evidence of the slaughter, the Daily Telegraph reported.
The Oceanic Viking was despatched by the Australian government to gather evidence for a possible international legal challenge to end Japan's whaling programme.
Related readings:


 Whaling to hurt Japan economy: Greenpeace


 Japan to resume 'investigative whaling' as soon as possible


 Anti-whaling activists freed from Japanese boat


 Dolphin hunt sags amid mercury fears
Amid the diplomatic tension over whaling, Smith flew to Tokyo on Thursday for a two-day visit and later met with Foreign Minister Masahiko Komura.
"Mr Smith expressed disappointment that whaling had resumed in the Southern Ocean, and conveyed the Australian government's strongly held view that Japan's whaling programme should cease," the foreign ministry spokesman said. "During the meeting the two countries have agreed to disagree on this issue."
Japan, which uses a loophole in a 1986 global whaling moratorium that allows lethal research, aims to slaughter about 1,000 whales this year despite strong opposition from Western countries and environmental groups.
"Japan's position is that this is research based on science and is a completely legal activity," Komura was quoted as telling Smith. "What's important is to handle this issue without getting emotional."
Harassment of the Japanese fleet by Greenpeace and Sea Shepherd ships had halted the killing of whales from about the middle of last month.