Price rises of farm produce as a result of heavy snow in most parts the country will not push up the January consumer price index (CPI), which may hit 6.5 percent year on year - roughly the same as in December - a top agriculture official said yesterday.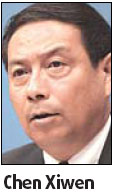 "The impact of the snowfall on winter crop production is extremely serious," Chen Xiwen, director of the Office of the Central Leading Group on Rural Work, told a news briefing. "The impact on fresh vegetables and fruits in some central and eastern regions has been catastrophic."
However, Chen said, fresh vegetables account for only "a small part" of CPI, a key gauge of inflation.
"Given that prices of grain, pork and edible oil have seen no apparent rises, January CPI will remain stable," Chen told the briefing held by the State Council Information Office.
Figures from the National Bureau of Statistics show that the CPI rose 4.8 percent for the whole of last year, driven mainly by rising food prices, especially pork.
Zhuang Jian, senior economist with the Asian Development Bank mission in China, also said the snowstorms' impact on farm production and transport will be short.
"In the long run, the impact on inflation will be small," he told Xinhua.
Transport chaos caused by continuous snow and sleet has driven up vegetable prices in 11 provinces, the National Development and Reform Commission, the top economic planner, said on Wednesday. In the hardest hit cities such as Changsha and Wuhan, vegetable prices have more than doubled.
To help keep prices down, the government has ordered all highway and expressway operators to exempt trucks carrying vegetables from toll fees. The ministries of finance and agriculture yesterday earmarked 100 million yuan ($13.9 million) to help affected farmers.
Chen also said that the extreme weather has dealt a heavy blow to winter crops, especially oil crops in the middle and lower reaches of the Yangtze River.
Figures released by the Ministry of Agriculture show that about 7 million hectares of crops in 16 provinces and municipalities including Hunan, Anhui and Shanghai have been affected, of which 730,000 hectares are without any yield.