ISLAMABAD, Pakistan - Abu Laith al-Libi, a top al-Qaida commander blamed for bombing an Afghan base while Vice President Cheney visited last year, was killed in Pakistan by an airstrike, a US government official said Thursday.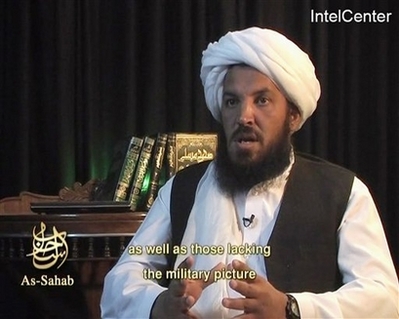 In this photo released by IntelCenter, an organization which monitors al-Qaida messaging, a Libyan al-Qaida commander Abu Laith al-Libi speaks during a videotaped interview at undisclosed location by al-Qaida's al-Sahab media wing on April 27, 2007. Al-Libi was killed in Afghanistan, a Web site used by militant groups said Thursday Jan. 31, 2008. [Agencies]
The strike was conducted by a Predator unmanned drone, the official said. It was carried out against a facility in north Waziristan, the lawless tribal area bordering Afghanistan. The official spoke on condition of anonymity because he is not authorized to discuss the strike publicly.
An estimated 12 people were killed in the strike late Monday or early Tuesday, including Arabs, Turkeman from central Asia and local Taliban members, according to an intelligence official in the area who spoke on condition of anonymity. He said the bodies of those killed were badly mangled by the force of the explosion and it was difficult to identify them.
The Predator was developed by the US CIA that can be armed with Hellfire anti-tank missiles. The CIA first used the remotely piloted reconnaissance aircraft as a strike plane in November 2002 against six alleged al-Qaida members traveling in a vehicle in Yemen.
The US says al-Libi, whose name means "the Libyan" in Arabic was likely behind the February 2007 bombing at the US base at Bagram in Afghanistan during a visit by Cheney. The attack killed 23 people but Cheney was deep inside the sprawling base and was not hurt.
The bombing added to the impression that Western forces and the shaky government of Afghan President Hamid Karzai are vulnerable to assault by Taliban and al-Qaida militants.
A Web site that frequently carries announcements from militant groups said al-Libi had been "martyred with a group of his brothers in the land of Muslim Pakistan" but gave no further details.
Terrorism experts called the killing a significant setback for al-Qaida because of his extensive ties to the Taliban, but they said the terror network would likely regroup and replace him.
"Al-Libi has been waging jihad for more than 10 years and it will be a blow to both al-Qaida and the Taliban, but not in a way that will lead to the downfall of those organizations," said Eric Rosenbach, terror expert and executive director of the Center for International Affairs at Harvard's Kennedy School.
Pakistani intelligence officials and residents said a missile struck a compound about 2 1/2 miles from the Pakistani town of Mir Ali in North Waziristan, killing 12 people, including seven Arabs as well as Pakistanis and Central Asians.
Residents said they could hear US Predator drones flying in the area shortly before the explosion, which destroyed the compound.
The Pakistani newspaper Dawn said the victims were buried in a local cemetery.
Rumors spread Thursday in the border area that al-Libi or his deputy died in the missile strike. But Pakistan's Interior Ministry spokesman, Javed Iqbal Cheema, insisted authorities had "no information" indicating al-Libi was dead.
Defense Secretary Robert Gates said he did not "have anything definitive" to say on reports of al-Libi's death.