WASHINGTON - US and European antitrust regulators aren't likely to prevent Microsoft from buying Yahoo, analysts said Friday, though scrutiny of the deal could drag on for months.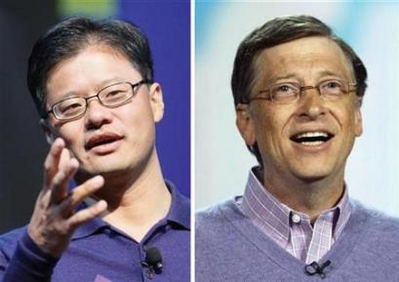 Yahoo CEO Jerry Yang (L) and Microsoft Chairman Bill Gates in a composite image. Microsoft on Friday said it had offered to acquire Yahoo in a proposed cash and stock deal valued at $44.6 billion. [Agencies] 
A major factor weighing in Microsoft Corp.'s favor, analysts said, is Google Inc.'s dominance in the online search and advertising businesses - the two areas regulators are likely to focus on when weighing market power issues raised by the nearly $45 billion unsolicited bid.
The Justice Department said it is "interested" in reviewing competition issues raised by Microsoft's surprise offer. The Federal Trade Commission and European Union officials declined to comment. If the deal goes through, analysts expect Congress and European regulators to review the combined company's increased competitive edge.
"I don't see this just sailing through, regulators will look at it," Ted Henneberry of the London law firm Heller Ehrman said. But even after a review that could take up to six months, he said a Microsoft-Yahoo combination isn't likely to be stopped because the new entity's share of the online ad space would still be dwarfed by Google, which already controls nearly 60 percent of the US search market.
"The fact that Google dominates this business will be a big factor in (Microsoft's) favor in trying to get this approved by the regulators," said Keith Hylton, a professor of antitrust law at Boston University.
Alternatively, a combined Yahoo Inc. and Microsoft which are the second and third largest US search engines could ease concerns about Google's growing power in the ad space. By combining, Microsoft and Yahoo would have a 33 percent share of the US search market, according to the latest data from comScore Media Metrix.
The Federal Trade Commission in December approved Google's $3.1 billion purchase of online advertising company DoubleClick Inc., but European Union regulators are still examining the deal and Google has said it won't go forward without their blessing. (Microsoft lobbied hard against the deal, arguing that it would give Google a dominant position in the online ad market.)
The FTC's OK of the Google-DoubleClick deal surely influenced Microsoft's decision to bid for Yahoo, said Joseph Turow, a professor at the University of Pennsylvania's Annenberg School of Communications who has been critical of the agency and fears that industry consolidation will be bad for consumers.
"Despite the appearance of unlimited choice in the new media environment, people's online activities will be tracked and shaped by a very small number of companies who care far more about surveillance and targeted advertising than the public interest," Turow said.
Marc Rotenberg, executive director of the Electronic Privacy Information Center, agreed and said "the problem of profiling Internet users will become more severe if mergers go forward without appropriate privacy safeguards."
Many Wall Street analysts expect regulators to approve the transaction, which Yahoo said it will "carefully and promptly" study.
Sen. Herb Kohl, D-Wis., chairman of the Senate antitrust subcommittee, said the same issues that prompted lawmakers to review the Google-DoubleClick deal exist in a potential Microsoft-Yahoo combination, including examining how it affects consumers, advertisers and businesses "who increasingly use the Internet for their news, commerce and entertainment."
If Yahoo accepts Microsoft's offer, the subcommittee expects to hold hearings to "explore the competitive and privacy implications of the deal," Kohl said.
A federal judge this week extended by 18 months court oversight of Microsoft's market power, which began in 2002 after a landmark antitrust settlement. Hylton said Justice has been relatively lenient with Microsoft, compared to state attorneys general who pushed for the extension of court oversight of the software giant. Justice officials said the 2002 antitrust settlement had largely served its purpose and should expire.
Shares of Yahoo added $9.20, or 48 percent, to $28.38 Friday, while Microsoft fell $2.15, or 6.6 percent, to $30.45.