TAIJI, Japan -- Every autumn and winter, hunters from this craggy Japanese fishing village corral thousands of dolphins into a tiny, isolated cove and kill them for meat and fertilizer, turning the water red with their blood.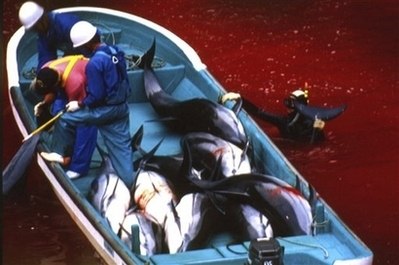 In this photo released by Sea Shepherd Conservation Society, fishermen work on a boat filled with freshly caught dolphins as a diver lifts a tale from the blood-filled water in the fishing town of Taiji in Wakayama Prefecure, Japan, in this Oct. 6, 2003 file photo. [Agencies]
And every year, foreign animal rights protesters converge on the town, interfering with the slaughter, clashing with fishermen and broadcasting grisly photographs of the slayings around the world -- all without stopping the hunt.
Now, Japan's dolphin hunters face a new, powerful opponent: mercury contamination.
A series of scientific studies in recent years in Japan have documented high levels of the toxic heavy metal in dolphin meat, and a group of city councilmen in Taiji launched an unprecedented campaign against the hunt several months ago after doing their own tests.
A leading regional supermarket chain has pulled dolphin from its shelves over the health concerns, and hunt critics in the town say villagers are shunning it. Meat from pilot whales -- a type of dolphin -- was taken off local school lunch menus in October.
"The mayor says we've caused 100 million yen ($1 million) in damages to the industry, but I don't know how that's calculated," said Junichiro Yamashita, a city councilman spearheading the anti-hunt movement. "They say the business is important for Taiji, but we say that health is more important."
Related readings:


 'Extinct' dolphin spotted in Yangtze River


 Hongkongers' most favorite: white dolphin


 Stranded dolphin rescued in south China


 Whaling to hurt Japan economy: Greenpeace


 Japan to resume 'investigative whaling' as soon as possible


 Greenpeace ship chases Japanese whaling fleet
Indeed, while animal rights arguments against the hunt have fallen on deaf ears in Japan, the threat of mercury contamination strikes a chord in a country where food safety is rapidly becoming a paramount public concern.
Though no mercury poisoning cases from dolphin meat have been publicly documented in Taiji, such contamination resonates loudly in Japan, where thousands were killed or crippled by mercury poisoning in Minamata in the 1950s and 60s. The poisoning was triggered by massive dumping of industrial mercury into the fishing grounds around the village in southern Japan.
Taiji is one of several Japanese villages where dolphins are hunted. The town this season has a nationally set quota of 3,015, of a total national quota of nearly 21,000. The actual take tends to be about 30 percent lower than the quota, depending on demand for the meat.
While other villages usually harpoon their quarry out at sea, the particularly bloody killing methods in Taiji have made the town a focal point of animal rights activists worldwide.
The village resents the attention and accuses outsiders of interfering with a hunting tradition of hundreds of years. Standoffs between protesters and hunters quickly boil over into arguments and threats. The town erects barriers and hangs tarps to block activists from photographing the kill, and daily hunts can be canceled if foreigners are seen in town.