WASHINGTON - The Federal Reserve delivered powerful new relief to people and businesses squeezed by the ailing economy Wednesday, cutting interest rates ever deeper in an effort to avert or at least soften the blow of a recession.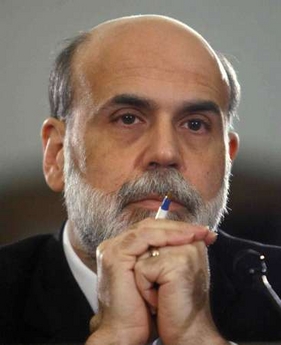 US Chairman of the Federal Reserve Ben Bernanke listens to questions as he testifies before a House Budget Committee hearing on Capitol Hill in Washington, in this January 17, 2008 file photo. The Federal Reserve cut US interest rates by a hefty half-percentage point January 30, 2008 as part of an aggressive effort to halt a sharp slowdown in an economy hit by a housing slump and a credit crunch. [Agencies] 
The bold, half-point reduction approved by Fed Chairman Ben Bernanke and all but one of his colleagues came as President Bush and Congress raced to enact a separate rescue package, including tax rebates for individuals and tax breaks for companies to help energize an economy in danger of stalling.
Heartened by the Fed's newfound aggressiveness, Wall Street rallied but then pulled back, still wary. The Dow Jones industrials jumped more than 200 points after the announcement but ended up down 37.47.
Commercial banks followed the Fed action by lowering their prime lending rate by the same half percentage point to 6 percent, the lowest in nearly three years. That prime rate applies to certain credit cards, home equity lines of credit and other loans.
Hours before the Fed's action, the government reported that the nation's economic growth had stumbled to a virtual halt. The economy grew at just a 0.6 percent pace from October through December, and for all of 2007 it logged its weakest performance in five years.
The collapse of the housing market, sour mortgage investments and much harder-to-get credit are weighing on people and businesses alike. Foreclosures have hit record highs, and banks have racked up multibillion-dollar losses. The fallout has shaken Wall Street, catapulted the economy to Topic A among worried families and galvanized political figures, including those vying to be the next president.
"The economy is hanging by a thread," said Stuart Hoffman, chief economist at PNC Financial Services Group.
While Wednesday's interest rate cut was welcome, the Fed's blunt new assessment of the economy was sobering for everyone from business owners to people worried about debts to anyone without a job or fearful of losing one.
"Credit has tightened further for some businesses and households," the Fed said. "Moreover, recent information indicates a deepening of the housing contraction as well as some softening in labor markets."
In its 9-1 decision, the Federal Reserve dropped its key rate to 3 percent at the end of a two-day meeting. Richard Fisher, president of the Federal Reserve Bank of Dallas was the sole dissenter. He preferred no change.
It was the second Fed rate cut in just over a week, and the policymakers signaled they were prepared to keep going lower if needed.
There had been a rare, three-quarter point reduction last Tuesday. Bernanke had convened an emergency session after stocks worldwide plummeted, intensifying recession fears. The cuts have helped to restore some confidence among skittish investors, but financial markets remain fragile.