TOKYO - Greenpeace Japan sent a letter on Monday to two Japanese economic organizations, pointing out that whaling is to hurt the country's economy.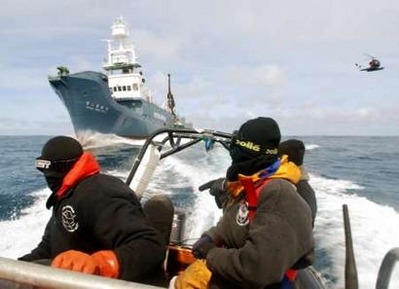 Anti-whaling activists in a zodiac watch the Japanese whaling ship Yushin Maru No.2 in this photograph released by Sea Shepherd January 15, 2008. Captain Paul Watson confirmed January 19, 2008 a group of activists threw butyric acid (stink bombs) aboard the whaling vessel after two members of Sea Shepherd were repatriated after being detained for two days. [Agencies] 
At a time when whaling gets more and more attention, Japan's insisted whaling activities in spite of international opposition is tarnishing the country's image and may arouse boycott of its products among consumers around the world, the environment-protection body said in the letter.
Whaling may also wage a negative influence on the economic partnership negotiation between Japan and Australia, and baffle Tokyo's bid for the 2016 Olympics, the letter said.
Greenpeace Japan said whaling is incurring risks beyond Japan's imagination. It called on the two economic organizations to make clear their anti-whaling stand for the well-being of Japanese enterprises.