TEL AVIV -- Visiting U.S. President George W. Bush said here Wednesday that he was seeking a lasting peace between Israel and the Palestinians, which has had a new opportunity.
"We seek last peace. We see a new opportunity for peace here in the holy land and for freedom across the region," Bush told a welcoming ceremony with Israeli leaders.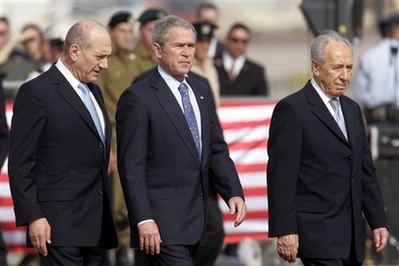 President Bush, center, Israeli Prime Minister Ehud Olmert, left, and Israeli President Shimon Perez, right, participate in an arrival ceremony at Ben-Gurion International Airport in Tel Aviv, Israel, Wednesday, Jan. 9, 2008. [Agencies] 
"The alliance between our two nations helps guarantee Israel's security as a Jewish state," Bush added.
Bush, meanwhile, promised to discuss security, freedom and peace throughout the Middle East with leaders in the region.
Related readings:

 Al-Qaida ask fighters to greet Bush with bombs


 Bush faces Mideast obstacles


 Bush's Mideast trip aimed at 'interfering': Iran


 Hamas rejects Bush's upcoming Mideast visit


 Mideast violence mounts on the eve of Bush's visit
Bush arrived here on Wednesday noon to start visiting Israel, the first leg of his eight-day Middle East trip.
Upon arrival at Ben Gurion Airport, Bush emerged from his special plane and was greeted on the scene by Israeli leaders, including President Shimon Peres, Prime Minister Ehud Olmert, Foreign Minister Tzipi Livni and Defense Minister Ehud Barak.
Peres, in his welcoming speech at the airport, warned arch-foe Iran not to underestimate Israel's resolve to defend itself, saying, "We take your advice to not underestimate the Iranian threat. Iran should not underestimate our resolve for self-defense."
He urged the U.S. ally to "stop the madness" of Iran, Hezbollah and Hamas.
Peres also claimed that Bush's visit was "a moment of truth" for the Middle East peace. "2008 should be the pathway from words to action, from aspiration to reality. Indeed, the next 12 months will be a moment of truth," he said.
While Olmert told smiling Bush that the United States was Israel's strongest and most trusted ally, saying that relations between the two nations were "unshakeable."
"You are our strongest and most trusted ally in the battle against terrorism and fundamentalism and a staunch supporter of our quest for peace and stability," Olmert said.
During his three-day stay in Israel and the Palestinian territories, Bush is expected to hold meetings with Israeli leaders, including Peres and Olmert.
He will later visit the West Bank and hold talks with Palestinian President Mahmoud Abbas in Ramallah. Bush will also visit Bethlehem, the traditional birthplace of Jesus.
For the first time since he took office in 2000, the U.S. president is visiting Israel and later the Palestinian territories, which is aimed at advancing peace talks between Israel and the Palestinians in the wake of the Annapolis peace conference in November last year.
Israel and the Palestinians had pledged to strive for a final-status agreement before the end of 2008 at the Annapolis conference. But talks between the two sides have been low-key with no tangible progress.
Following Israel and the Palestinian territories, Bush will also visit Kuwait, Bahrain, the United Arab Emirates, Saudi Arabia, and Egypt. And there are media reports speculating that he will also make a surprise visit to Iraq.