TEHRAN -- Iranian Parliament Speaker Gholam Ali Haddad Adel has called US accusations in the recent confrontation between US and Iranian ships in the Strait of Hormuz as a "psychological and propaganda campaign," local Tehran Times daily reported on Wednesday.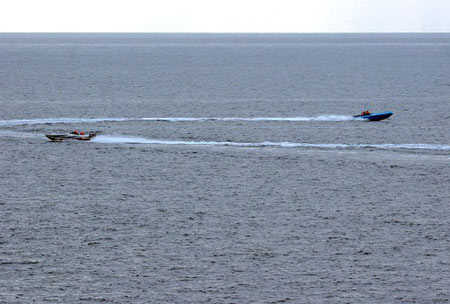 This image released by the US Navy, Jan. 8, 2008, and shot Jan. 6 from the bridge of the destroyer USS Hopper, shows two small boats, alleged to be Iranian, purportedly racing near the wake of the US Navy ships in the Strait of Hormuz. US President George W. Bush described Tuesday Iran's act in the confrontation as "provocative." [Agencies] 
"We have always shown that we believe in peace and avoiding tension, and we presume that the US media propaganda is part of its psychological and propaganda campaign, which it is continuously conducting against Iran," Adel was quoted as saying on Tuesday.
Related readings:


 Transcript of Iran-US Navy clash


 Pentagon says ships harassed by Iran


 Bush's Mideast trip aimed at 'interfering': Iran


 Iran says no to resume ties with US at current time
"If one side should charge others of meddling in this region, that side would be Iran, because, unlike the Americans, who came from thousands of kilometers away and stationed their navy ships in the Gulf, we are a natural neighbor of this waterway," he said.
The US Pentagon said Monday that five Iranian boats had harassed and threatened three US Navy warships in international waters in the Strait of Hormuz.
Bush administration officials immediately warned Iran to refrain from taking "provocative actions that could lead to a dangerous incident in the future."
But Iran responded by calling the incident "something normal" and said the incident has been resolved.