BAGHDAD -- US and Iraqi forces launched a major operation to strike against al-Qaida in Iraq and other extremists, the US military said Tuesday, hoping to build on a recent reduction of violence and push militants from their strongholds.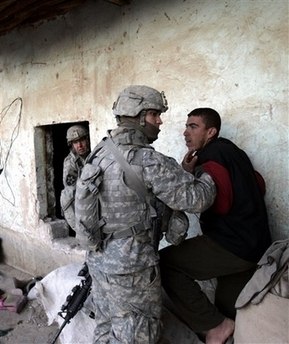 A US army soldier from Blackfoot Company, 2nd Battalion, 23rd Infantry Regiment detains a suspect during the initial phase of Operation Raider Harvest in the village of Sinsil on the northern outskirts of Muqdadiyah, in the volatile Diyala province, about 90 kilometers (60 miles) north of Baghdad, Iraq, Tuesday, Jan. 8, 2008. [Agencies]
The division and brigade-level operation, dubbed Phantom Phoenix, will cover the entire country, the military said.
US and Iraqi forces will "continue to pursue al-Qaida and other extremists wherever they attempt to take sanctuary," Lt. Gen. Ray Odierno, the No. 2 commander in Iraq, said in a statement announcing the start of the joint operation. "We are determined not to allow these brutal elements to have respite anywhere in Iraq."
Violence across Iraq has fallen dramatically in recent months, an improvement attributed to a combination of 30,000 extra troops sent into the Baghdad area; the work of US-backed predominantly Sunni tribal groups who turned against al-Qaida in Iraq; and a cease-fire declared by radical Shiite cleric Muqtada al-Sadr for his Mahdi Army militia.
Extremists have been pushed out of their former stronghold in Anbar province west of Baghdad to the east and north, and appear to be concentrated in the province of Diyala to the northeast of the capital and in Mosul to the north.
"Al-Qaida in Iraq is attempting to regain strength and establish new support areas in northern Iraq," said Lt. Col. James Hutton, a spokesman for the US military.
Few details were given on the operation, which will go beyond military activities and focus as well on providing basic services and improving local governance and economic life for Iraqis, the statement said.